Dashboard Confessional
So Impossible (Vagrant)
By: Greta Salpeter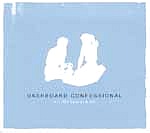 At the age of 15, Chris Carrabba was given a guitar from his Uncle Angelo, and that first sparked his interest in music. Chris taught himself how to play, but was too busy skateboarding to become serious about music until the end of high school. He played with a few local Florida bands including the Vacant Andy's, The Agency, and Further Seems Forever. Dashboard Confessional really began when Chris took a huge chance, and started out on a solo act with an acoustic sound. He released The Drowning EP, which he described as "...a snapshot of where I was back then...at least that day anyway". Well, he must've been in a pretty good place that day because ever since, his fans have spread all across the country.

Chris's outbursts of eloquent poetry evoke the deepest feelings that a listener never even knew they had. His combinations of acoustic guitar, prosaic lyrics, and reassuring voice, create an amazing imagery that can be seen, and almost felt, by anyone to takes the time to listen. His backup vocals and guitars, which change regularly from album to album, add a unique sound and body to his already great music. The name "Dashboard Confessional" came from one of his songs, "The Sharp Hint of New Tears", which was released on The Swiss Army Romance. It came from the line "...On the way home, this car hears my confessions..." He didn't want to have a solo name because he thought that the crowd should be an integral part of the show, and that having a solo name would discourage that.

His latest release, So Impossible, is yet another step for Chris in the right direction. This 4 song EP is a bit comparable to some of his other work, but overall, Dashboard is a perfectly unique musical experience. The 4th track, Hands Down, is the paramount song, complete with a newly found acoustic sound, and lyrics like "My hopes are so high that your kiss might kill me, so won't you kill me, so I die happy? My heart it yours to fill or burst, to break or bury, or wear as jewelry, which ever you prefer". The other three songs are still good, but the lyrics seem to fall short of those on his release just before So Impossible, entitled The Places You Have Come To Fear The Most. To harder punk rockers, Dashboard Confessional is often seen as being too dull to listen to, but it is such a true gift for anyone that takes the time to listen to this amazing work.