VARIOUS ARTISTS
Naked in the Afternoon - A Tribute To Jandek (Summersteps Records)
By: Gary "Pig" Gold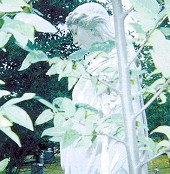 As the entire Tribute Album ethos is fast becoming simply a collectors' smorgasbord of cult wonders -- not that there's necessarily anything wrong with that -- Summersteps Records has boldly gone and assembled the seemingly impossible here. Namely, put together 78 perfectly-sequenced minutes of end-to-end sonic surprises, and all of it in the name of shining light upon one of our most endearingly enigmatic cult figures of all: the lone star Texan known (albeit only to those IN the know) as Jandek.

You see, Jandex has spent the last two decades constructing one of the most unique catalogs of music hardly ever heard, and twenty one artists herein (including Thurston Moore alongside longtime Jandek champion Byron Coley) pay not only tribute, but in some cases actually bleed new life into the man's daunting-indeed catalog. Now, while some on this album (particularly Retsin, Ivory Elephant, Amasa and Pipes You See, Pipes You Don't) seem content to lovingly recreate Jandek's very own, often downright delicate m.o., others -- The Goblins and especially Peter Weiss And Brian Charles -- actually drag their idol's work kicking and screaming towards true rock mainstreams. I, for one, would have preferred to hear many more such attempts to grapple Jandek's way with a melodic U-turn, as opposed to, say, the several attempts herein to create a sorta techno-Jandek -- not that there's anything wrong with THAT either.

Still, artists such as Cassie Rose And The Pickled Punks DO seem to have recognized and duly recreated the dustbowl flavorings which (to again quote Byron Coley) blow like an old dead leaf painted dark purple across Jandek's work, and Amy Denio's nine-minute concluding salvo, "Your Condition," steers close to standing solidly against the original! So then, if you aren't already aware of Jandek and his extremely special music, Naked In The Afternoon is, without a doubt, the ideal place to start.

But THEN, you must each promise to immediately contact the fine folk at Corwood Industries [PO Box 15375, Houston, TX 77220] for a half-dozen or so albums full of The Real Stuff too, alright? Just tell 'em Gary the Pig sentcha.