Patrick Sky
Songs That Made America Famous (Adelphi/GENES Records, Inc.)
By: Gary "Pig" Gold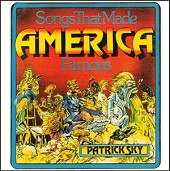 In 1965, yet another Greenwich Village folkie signed to Vanguard Records and released an album full of pleasing if inconsequential singalongs, more or less in the vein of "The Freewheelin' Bob Dylan" (albeit minus the motorpsycho nightmares). Little did Patrick or even Vanguard realize that this idiom was all but already dead, or more critically that Bob Hisself was already haunting music stores for the latest in - gasp! - ELECTRIC Fender gear.

Well, six years later, by which time Dylan had retired to Tall Tree land (not to mention the aisles of Pottery Barn), Patrick Sky finally got 'round to committing fourteen of his own special nightmares to tape: A collection of songs so wickedly brutal in their condemnation of Nixonian America that they were turned down flat by not only supposedly radical Vanguard but each and every other major and minor label in the land. Perhaps it was the song-titles themselves (ie: "Ramblin' Hunchback," "Vatican Caskets," "Child Molesting Blues") which scared off the A&R weasels, or just the fact that here was a, uhh, formerly respected singer/songwriter who dared to actually put his mouth where his harmonica was and CONFRONT the music biz, to say nothing of Society as a (w)hole, with what it was really up to in those lean, mean Early Seventies. Suffice to say "Songs That Made America Famous" went all but unheard when, several years after it was recorded, it was quietly released on the tiny Adelphi label (complete with a record label picturing two butt cheeks proudly pressed flat together in a hilarious parody of the Beatles' Apple logo).

Well, there IS justice in our dirty old world, it seems, because today this absolutely brilliant album - nothing less than the Grandaddy of All Things Politically Incorrect - is available again --and I'm happy to report it has lost absolutely none of its bite and sting in the ensuring quarter century. If anything, this masterpiece is even more relevant today with W. in the Big House than it was under Tricky's Dick's reign. Certainly there will be plenty who will remain offended at some of the sentiments herein, but Patrick Sky obviously made and meant this record for those of you out there who consider yourselves both smart and brave enough to learn from the tough lessons it teaches. In a word, Classic. Buy at least one today. The rest of you? I hear Dylan's made yet another comeback...