Cursive
Burst and Bloom (Saddle Creek)
By: Alex Steininger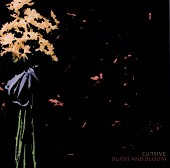 Hard-driving, percussive heavy post-punk indie rock, Cursive delivers enchanting melodies, plentiful rock, and manic melodies on their latest, the Burst and Bloom EP. A follow-up to the critically acclaimed Cursive's Domestica, the band starts off the EP with a timid emo song about their sound, songwriting, latest release. A unique way of starting an album, explaining their mindset and ideas behind the conception of it in the form of music (rather than liner notes).

The rest of the album lets it all loose, allowing fierce guitars to jar you awake, while bleeding heart vocals shred the music into pieces, giving it the spirit and drive to really come alive.

A collection of five solid, well thought out songs sure to pound their way into your conscious, Cursive's staying power is evident here, as they whip out loud guitars alongside timid melodies with ease. I'll give this an A-.