Cursive / Eastern Youth
8 Teeth To Eat You - Split CD-EP (Five One Inc.)
By: Alex Steininger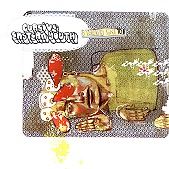 Two of indie rock's loudest, most driven bands, Omaha's Cursive teams up with Japan's Eastern Youth to deliver a relentless assault of rock for you to bite into. Starting off with Cursive's four tracks, 8 Teeth To Eat You quickly ignites the fire, with "Excerpts From Various Notes Strewn Around The Bedroom of April Connolly, Feb 24, 1997" creating a wall of melodic noise.

Cursive don't let the momentum die, offering up "Am I Not Yours?", "Escape Artist", and "May Flowers", three equally potent, explosive works of art.

Eastern Youth take a jangle-y approach on their opener, "Bura Bura Bushi", an up tempo, rollicking rock number that subscribes to the theory of melody over noise, but still packs quite the punch.

"Muyohnosuke" hits you up along side the head with some fierce action, and their remaining two offerings, "Nisokuhokohkouta" and "Itsudemo Kokoniiru" don't disappoint, either, the first one simmering while the latter blazes.

A tasty sample of two fine rock bands poised to keep gaining fans and fanfare. I'll give it a B+.