DVD REVIEW: Paradise Lost 2
Revelations (Free The West Memphis 3)
By: Alex Steininger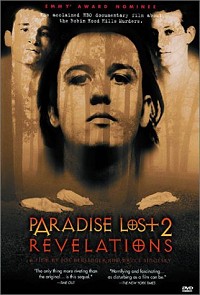 Meet the West Memphis 3: Damien Echols, Jason Baldwin, and Jessie Misskelley. Three young men who are in prison now facing life and/or death for a crime they still maintain their innocence over.

HBO's 1996 award-winning documentary, Paradise Lost: The Child Murders At Robin Hood Hills is a haunting, tormenting depiction of what parts of America have come to represent: hate, stereotypes, and uneducated judgements.

Filmmakers Joe Berlinger and Bruce Sinofsky set out to shed some public light on the murders of three eight-year-old boys at Robin Hood Hills (a town in West Memphis, Arkansas). Murders that three (then) teenage boys were arrested for (with the so-called ringleader, Damien Echols receiving the death penalty), arrested on no more evidence than the fact that they like heavy metal music and wear black.

Metallica donated their songs for the soundtrack of Paradise Lost, and other big name supports such as Pearl Jam's Eddie Vedder, The Supersuckers, and Tom Waits - to name a few - have become supporters of the "Free The West Memphis 3" support group.

Paradise Lost gives you a glimpse into the lives and minds of the "West Memphis Three" and several key figures surrounding their case. However, after viewing the documentary you'll walk away with several unanswered questions.

Paradise Lost 2: Revelations, however, answers almost all the questions for you, giving you a true suspect in the case and a solid defense to these boys' innocence.

The most likely culprit is one John Mark Byers, the step dad of one of the children that was murdered, as well as a psychotic actor, one who plays the character of a hurt parent throughout the film but offers plenty of contradicting stories, question raising antics, and violent outbursts. By the end of the film he finds himself in jail for selling drugs and we also learn he is perpetually in trouble with the law, in one instance forcing a child to use a knife in a fight against another child.

An older, wiser, and more informed Damien Echols helps defend himself, along with the West Memphis 3 Support Group. Jessie Misskelley is found to have a very low I.Q. (his 'confession' made possible by badgering, misleading cops, sleep deprivation, and a teenager with little to no comprehension of his situation). And Jason Baldwin, still young, seems to be searching for answers on how he landed in jail.

If you haven't seen Paradise Lost, I highly recommend it. However, if you jump right into Paradise Lost 2, Joe Berlinger (sans Bruce Sinofsky) sets up the film in a way that the viewer is able to comprehend. He structured the documentary so viewers can intake all the information and fully grip the case, without the immediate need to view part 1 first.

Paradise Lost 2 is a compelling, heart wrenching documentary that will leave you in tears. Those that see it will be convinced of the three boys' innocence.

With September 11th fresh on everyone's mind and our nation pulling together, things like hate and bigotry seem to be something we, as a nation, are striving to overcome. But what about the forgotten hate of what we don't understand, like Wicca or metal? Spend a half-hour with Paradise Lost 2 and with September 11th securely in your mind, you will want to rally as a national to help free these boys. To help repair a part of our great nation that is dying quicker than a death a terrorist could ever inflict.

I will give this DVD an A+. It originally aired in 2000 on HBO but is just now being released on DVD. If you can, buy it. Otherwise, rent it at your local video store. Hollywood Video and Blockbuster Video both carry it.