Stephin Merritt
Eban & Charley - Original Motion Picture Soundtrack (Merge)
By: Cam Lindsay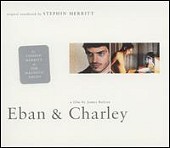 He is the King of Indie Love Stories and it is most fitting for Stephen Merritt to tell the tale of Eban & Charley through his music. The film is an awkward love story between a 29 year-old man (Eban) and a 15 year-old boy (Charley). The music is a gloomy selection of recordings, interspersing short instrumentals, ballads and the occasional cover tune. Merritt covers everything from the two-minute pop song ("This Little Ukelele") to tracks that contain no music, only background noises ("Stage Rains").

Anyone who adored the experimentation behind the 69 Love Songs trilogy will feel right at home. Those who enjoy Merritt's pop-sensibility with Future Bible Heroes, the 6ths and Magnetic Fields, circa Get Lost, will have a tough time getting their heads around this record. There are some catchy numbers like the outrageous "Poppyland" and the amusing "Tiny Flying Piano Players", along with the two notable covers of the famous holiday classics "O Tannenbaum" and "Greensleeves". However, most tracks are for the actual soundtrack, and remain to be quite challenging. Tracks like "Victorian Robots" and "Titles" are nothing more than strange noises, which is the same for the majority of the album's songs.

Like a lot of non-commercial soundtracks, this isn't for the car stereo or Friday night party. A lot of the material here is ineffable and designed to complement a film. Nonetheless, the music does an effective job in building up curiosity about the film, because after hearing this, I need to know what this extraordinary music is accompanying.