Stephen Malkmus
Stephen Malkmus (Matador Records)
By: Mikel Jollett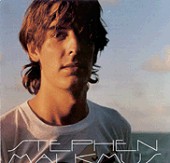 The crowned prince of indie-rock has left the castle and ventured out on his own to seek fame and fortune in faraway lands. The eponymously named Stephen Malkmus solo debut is a charming collection of songs that sound like a poppy album of Pavement b-sides The songwriting is classic Malkmus: wandering and quirky and rambling and surprising. But whereas Pavement songs always seemed like music bursting at the seams in five different directions at once held together by one disjointed core, this album is much more straightforward and frankly, not as thrilling.

Having said that, there are some very good tracks on this cd. "Church on White" is filled with non-linear guitar musings set along the arc of a semi-sweet ballad. "Promise me you will always be/ too awake to be famous/ too white to be safe," he implores in his half-spoken, half-sung slacker tone. Ignoring the overwrought analysis of typical Pavement fans over whether or not this song is meant to be some sort of winking self-analysis, it still has an earnestness to it that complements Malkmus's vague and ironic indie-idol image. By the time the guitar crescendo ties the song together at the end, you feel that he meant absolutely every word of whatever it was he said. Ignore me. No, love me. No, on second thought, just fuck off.

The best song on the album is clearly track 11 "Jennifer and Ess-Dog". It's a playful fairy tale about an ill-fated relationship between a high school student and a 31 year old guitarist in a 60's cover band. The storytelling is insightful and funny and interesting and reminiscent of Morrissey's Bona Drag in its exploration of unlikely protagonists. "Neither one listens to Brothers in Arms/ and the Ess-Dog waits tables and sold his guitar/ Jenny pledged Kappa and she started pre-law/ and off came those awful toe-rings." I kept expecting November to spawn a monster in the shape of this child or a hairdresser on fire to clip furiously with busy scissors.

Songs such as "Trojan Curfew", "The Hook", and "Vague Space" capitalize on Malkmus's entertaining writing, summing up their stories in easy arrangements and likable melodies. This album takes less risks than a typical Pavement album and that is both what is good and bad about it.

If you've never heard of Pavement, buy a Pavement album first. (oh, and come out from under that rock where you've been hiding with your U2 cd's). Otherwise, you'll probably enjoy this album, originally titled "Swedish Reggae", for its inventive songwriting and and its very exaltation of all things pertaining to the life and times of Prince Malkmus.