Stephen Malkmus & The Jicks
Pig Lib (Matador Records)
By: Alex Steininger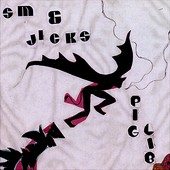 Stephen Malkmus originally wanted to release his self-titled debut solo album under the moniker The Jicks, but was convinced otherwise by the label, Matador Records. However, this time around, Malkmus gets his way, the latest record, Pig Lib, sporting The Jicks name on it.

With The Jicks named attached to the record comes a sense of a band. Not just because a band name is included, but after listening to Pig Lib, especially after listening to any Pavement record, or after listening to Stephen Malkmus, the presence of a solid, gelled line-up is more than apparent.

Unlike the sloppy, fly by the seat of your pants mindset of Pavement, and the loose, meandering approach of the self-titled solo record, Pig Lib is focused and comfortable. Everyone is on the same page as they maneuver together, knowing each other's moves well ahead of time and planning appropriately. Which is even true when Malkmus, reveling in the comfort of working with a band that is as natural as family, starts to jam, something he does a lot on Pig Lib.

Less wry wit and quirky pop than the debut, Pig Lib forges ahead, experimenting with many different sounds and styles, as Malkmus' love for old British folk, and to some extent, blues (though not overly evident), plays a part.

Along with bassist Joanne Bolme, drummer John Moen, and guitarist/keyboardist Mike Clark (of the No-No's), The Jicks transform Malkmus' songwriting into a devilishly pleasant, if not indulgent-at-times brand of rock. Prime examples can be found on tracks like the tongue-in-cheek "Vanessa From Queens", the appropriately titled "Dark Wave," which sports a new wave flavor, and the bouncy, nearly ten-minute epic song "1% of One". The latter including Bolme and Moen on backing vocals, heightening the listening experience, and making the song stand out as the ultimate jam on the record.

Less straight forward (if Malkmus was ever straight-forward) and seductively elusive, Pig Lib proves that Malkmus, or any well-respected songwriter, can, with the help of great musicians and a strong backing band, follow-up a highly touted solo debut with something more interesting and more complex. Without falling prey to over-thought and forced songs. I'll give it a B+.