INTERVIEW: Dan Bern
Bern, Baby. Bern - Dan Bern Might Sound Like Dylan, but He's Just Doing His Thing
By: Randy Harward




(Previously published in the Salt Lake City Weekly)

The guy with the guitar is walking down the street when a hoary old gypsy woman steps into his path and extends a gnarled hand. The knobby paw paints his neck and forehead as she murmurs something about desolate rows, the 61st cross-country artery, somebody named Woody and singing through one's nose. When she's done, the guy with the guitar tosses her a quarter and keeps walking.

So Dan Bern sounds like Bob Dylan. And has an eerily similar mastery of language that he uses to portray gravity, depravity, levity and triviality in the world. So what if music fans and analysts would have him rule as the successor to the poofy-haired legend. To Bern..."Bernstein" to his friends...the similarities ought to end with the fact they're both singers who, on occasion, give solo acoustic performances. He doesn't lose sleep over it, he'd just like his music to be taken on its own merits, weighed without a thumb on the scale.

"It seems like such a non-issue," he says. "I don't think about [it] when I write or when I sing, so what people choose to do with it is their own thing."

Once past the similarities, it's easy to accommodate Bern and appreciate his ability to poke fun, call bullshit and inject truth and relevance within a folk-ish context without coming off didactic or pretentious. Even his virtual Big Bag O' References is a marvel for its sheer volume of celebrities, maladies, conversations, nursery rhyme royalty, baseball legends, the Surgeon General, independent films, vapid teen pop stars, hoary rock stars, politics, road trips, deities, personal relationships, MAD Magazine, holidays and tragedies that serve as foils in his cinematic songscapes (of which there exist some 2,000). But wait...aren't those the tools of any good songwriter? How much does influence count for? Does it matter who showed up first, and did it well? Is Dan Bern just a guy with a guitar doing his thing?

"I just think I live in the world, along with everybody else," he says. "A lot of [my songs] feel really personal, and a lot of the stuff feels shared, communal. And I think in my best songs, the two merge. [As for topics], I don't consider anything to be off-limits in terms of how you can treat it in a song. Whatever limitations people like to put on ya, I've never put those on myself. And the fact that, for a long time, I played by myself with a guitar, was as much an economic thing as anything else. Can I afford to take a whole band around? No. Can I afford to take myself with a guitar? Sure, you know? That has no considerations on the songs you're gonna write and the topics you're going to deal with and how you're going to treat 'em and how you're gonna use your voice."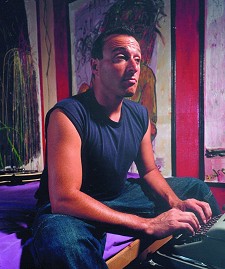 Economy...of method...is as much a non-issue as comparisons on Bern's newly released fourth album, New American Language (Messenger Records). Counting Bernstein and his band, The International Jewish Banking Conspiracy, twelve players are featured, playing twenty-one instruments, from the ubiquitous three (guitar, bass, drums) to such instrumental exotica as the digeridoo, tuba, and the Cellocaster, a six-stringed, bowed contraption invented by Jewish Banker Paul Kuhn. Not only that, but no less than three producers twiddled the knobs; renowned producer Chuck Plotkin (Bruce Springsteen, that Dylan guy) and IJBC members Wil Masisak and Colin Mahoney. It's like Thanksgiving dinner at the Hometown Buffet, an effect born out of Bern's desire to defy restriction.
"The whole thing to me is about inclusion and making things expansive and--not limiting yourself, not limiting your environment, your mind, your emotional range. And not letting the forces out there that would limit you win, you know? And even now, with September 11th, it's like you can't let that win. You gotta find the spark. And the spark, it's in [Jim Jarmusch film] Stranger Than Paradise, it's in a well pitched ballgame [laughs]-- I think a lot of it is attitude and the way you look at the world. You can find magic anywhere."
This broad-based philosophy continues to endear Bern to a growing base of fans since he released his self-titled debut on Sony/Work in 1993. It extends to his live performance and the rapport he achieves with his audience. According to Messenger Records president Brandon Kessler, they look to Bern for his take on things and come to his shows expecting a cathartic, exhilarating experience, and they get it. Then they go home and debate his lyrics online and circulate live bootlegs like religious tracts. If a comparison to Dylan must be made, it should go to appeal; the interest and passion he generates among his listeners. "There's no other artist I know who appeals to the older adult, Dylan-loving NPR listeners, as well as the college-age, tape-trading, cult-followers. His appeal is universal."
Kessler's support and hard work come from an honest admiration of Bern, which the songwriter relishes, saying it enables him to concentrate on writing and performing rather than being another product generated by a huge corporate entity. "I feel really lucky to be with him. He's worked so hard and he's got a big heart and it's in the right place. A lot of times, I'll get tired or something and I'll think of him working his ass off back there. It keeps me going."
He's damn proud of the result, too, calling New American Language his best album since Dan Bern, if not his best ever. Many would concur...the San Francisco Examiner recently called it one of the only new albums still relevant after September 11...and despite the Dylan-esque elements, it further establishes him as a singular talent. On the whole, it's a win. "As a listening experience, the way the songs work against each other--I just think it works. I know I'll be doing some of the songs on this record probably as long as I perform. I'm finding it's a lot easier with this record to play these songs night after night than with my other records. I remember the Sony people would always complain that I didn't play the songs from the record [laughs]. With this one, I'm still finding a lot there every night for myself. I think that's a good sign."