INTERVIEW: Cursive
Tim Kasher Talks Latest Album, Rising Popularity (Saddle Creek)
By: Alex Steininger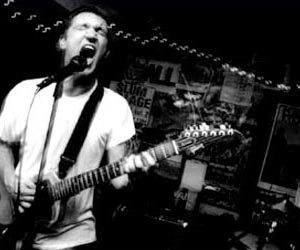 "Doors have just opened here and there all along the way. I see it as everyone growing together," Kasher says, discussing the growing popularity of Omaha-based indie label Saddle Creek, which Cursive calls home, and the growing fan base of Cursive.

"The situation I'm in now has already excited any of the daydreams I have had growing up," Kasher modesty admits. "One day I think it is great and another day I think it is just weird. It's positive overall and it's nice to be able to do this."

After forming in 1995 and releasing their debut, Such Blinding Stars for Starving Eyes, in 1997 on punk label Epitaph Records, Omaha, Nebraska's Cursive could never image, let alone dream, of the future that lay ahead of them. Three albums later, their fourth full-length, The Ugly Organ, has just been released, and the band is the talk of indie-rock fans and critics alike. The fact they're on the hot indie of the moment, Saddle Creek, doesn't hurt.

"If there was a recurring daydream I had, when I went to bed, I really wanted to be a name in people's heads, a recognizable name in the huge, vast sea of indie rock," admits Kasher. "That's as exciting as I could muster up. To have a sticker on a bathroom wall and have people see it and recognize the name. I thought that would be cool."

People are more than recognizing the name "Cursive" when they see it above the urinal in dingy club bathrooms across the U.S. They're flipping out, talking up a storm, and trading stories (as well as bootlegs) of the band's live performances.

"It's amazing to all of us that any of this has worked out. That the daydream has turned into not just being able to make music, but it is going OK, and that the whole label is doing well. That's amazing," Kasher says with unbridled excitement in his voice. "That's another unobtainable daydream. What if the label could be like Dischord or Merge? It's almost impossible, because that's Dischord and that's Merge, and those are the only people that can do that."

But Saddle Creek has seemed to do it. Indie kids are flocking everywhere to see what's next on the label.

Explaining how it feels to be signed to Saddle Creek, Kasher explains, "It's a much different prestige than if Saddle Creek were to pick up some band in Portland and then they were excited they were on Saddle Creek. It would be a much different feeling than how I feel. Which is, I'm really proud to be a part of something that all of my friends, including ourselves, have worked as hard as they can to build. I'm just proud of everyone."

Hard work truly does pay off, as The Ugly Organ attests. It was a hard record to make, as the band didn't want to rehash the previous three albums. They wanted to go in a new direction, continuing where Domestica, the band's previous full-length, left off, and taking things to another level yet again.

Trying to make things as innovative and fresh as possible, the band labored over their songs for quite some time before settling on the numbers that would comprise the album.

"The songs are over a year old, some of them, but the process has become some much slower, because recording takes that much longer. And writing takes that much more longer because we're trying to be conscious of what we're doing," Kasher explains. "We went into the studio with about 20 songs, I think, and then some became The Ugly Organ and four other songs went on the split we did with Eastern Youth. We were in the process of writing them all and had most of them sitting in front of us, as I recall. We recognized that we had four songs that were strong enough to stand on their own and wouldn't necessarily be missed if they weren't on The Ugly Organ."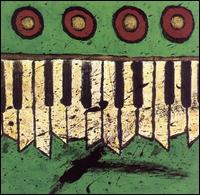 With so much labor and time spent perfecting The Ugly Organ, fans will rejoice to hear that it is by far the band's best album to date. It expands and extends the boundaries of what Cursive has done in the past, and sets the bar even higher for next time.
"Instrumentally, The Ugly Organ is a lot more structured and lavish (than Domestica). It's our first full-length with Gretta, the cellist," Kasher says. "On Domestica we hinted at being a studio band here and there, and when I listen to it, I like it. But its more stripped-down rock and it seems a lot of the record that works for it, the stripped-down ideas. But that's where a lot of it differs. On The Ugly Organ we were happy to be a studio band, because it was something we hadn't been before. It helped us obtain something much different in terms of concepts."
However, by making The Ugly Organ a studio record, the band left themselves with a problem they didn't want to solve until the album was complete: how to perform it live.
Adding a cellist was big help. The band also added triggers to the drums to ensure the drum effects could be pulled off live. Beyond that, Kasher says, it?s all about practice and experience.
"From the studio to live, it's a transition," he admits. "A slow transition, but it?s been working out. I have a piano - a small keyboard - so I play piano and organ parts live. And it's more refined. Every album, every time we go out, we learn how to turn our amps down a bit and get a better overall mix, instead of just being a loud guitar band. From there it just grew and grew. It was very difficult at first, but already after two tours, we've become very comfortable with the whole idea."
The band is quite proud of The Ugly Organ, the work they did creating the album in the studio, and the effort put in to pulling it off onstage.
"This is the first record I actually feel like was worked on until it was really finished. It's the album I'm most proud of what we did instrumentally and production-wise," Kasher proudly says.
Part of Kasher's pride on The Ugly Organ stems from the use of technology to better the product.
"We spent over fifteen hours working on the vocals and we just couldn't hit it every time. I'm a good singer, but not a great singer. I wrote a couple parts, which I seem to do on every album, where the part is a bit too high for me to sing. So we use Pro Tools to fix it. I'm not ashamed to say that at all. We have had to Pro Tools some parts. The tools are there. It's not like I'm singing flat all the time. Really, what we do is record 4-6 takes for each song, track them all, and then go through and edit them. That's the new world way of still staying old world. It's still my natural voice, but with a lot of takes spliced together. And here and there Pro Tools cleans it."
Through technology, good fortune and plenty of hard work, Cursive has developed into more than a mere indie rock band. They've propelled themselves to the top of the game, amassing an ever-growing fan base, selling an unbelievable amount of records, and having fun. Here's to dreams; they can come true.