Inner
lovetheonlyway (Caboose Music)
By: Alex Steininger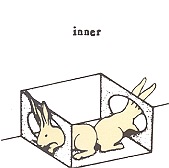 Beautifully mellow with the occasional shake waking you up, lovetheonlyway is a soft, rich work of art, an indie pop record with folk and ambient influences, even stretching the boundaries and incorporating a little Brit-Pop ("Cantsitstill").

Without fear or inhibitions, Inner delves deep down and pulls out an honest, strong collection of songs that will leave you with little more to say than, "Wow!" This is indie pop taken to the next level, an album that shows the potential of lo-fi and how the talented take advantage to create raw, intimate albums with balls, like this one. I'll give it an A.