VARIOUS ARTISTS - Six Feet Under
Music From The HBO Original Series (Universal Music/HBO)
By: Alex Steininger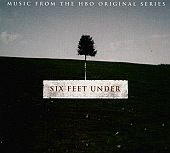 I'm not familiar with Six Feet Under, the HBO original series. So, when I got the soundtrack to the show in the mail, I had no clue what it was. But, I popped it into my CD player anyway, to see what the music was all about.

With artists like The Dandy Warhols, PJ Harvey, Zero 7, The Beta Band, and Lamb, the soundtrack is pretty impressive, so much so that it makes me want to watch the show to see what it is all about (if only I had HBO). The Dandy Warhols, a band that can write the most accessible, hook-laden song without trying displays this talent on their hit, "Bohemian Like You", while Lamb takes a different approach on "Heaven", delivering an eerie, surreal song centered around her voice and percussion. Strings and other instrumentation flush the song out, giving it many dimensions to enjoy.

Stereo MC's "Deep Down & Dirty" is an electro-hip-hop pop song that will get you dancing and grooving, PJ Harvey's "One Time Too Many" is a distorted rock masterpiece, and Zero 7's "Distractions" blends atmospheric space-pop with laid back soulful grooves.

From the get up and go to the sit down and lounge, Six Feet Under's soundtrack travels many musical landscapes and captures mood and atmosphere with the eerie, pretty, and soothing. I'll give it a B.