Don't Worry, Joey
The Lead Ramone's Parting Shots (Joey Ramone)
By: Gary "Pig" Gold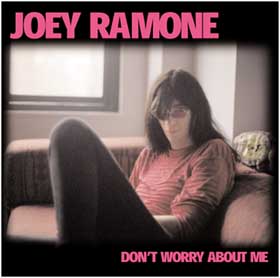 Perhaps it really shouldn't have upset me as much as it did a year ago; I mean, after already losing the coolest Beatle, Rolling Stone, High Number and possibly even Sex Pistol, one could claim to feel somewhat jaded as yet another great one bit the dust, couldn't one?

But no sir. When big tall Joey Ramone finally succumbed to his illnesses and fell deadly silent (right about the same time as his not-so-distant musical cousin Perry Como did as well, coincidentally), I don't think I was the only olde punk out there who immediately draped his broken heart in black leather, pulled out his (original! vinyl! with "Carbona Not Glue" intact!!) copy of "Ramones Leave Home," and shed a grimy tear or three over the power and the anti-glory which once was the long, LONG-lost Summer of Hate (--that's 1977 by the way, for all you VH1-notes out there).

That's right: Back before such posers to the drone-throne as Green Day reared their demographically-coifed heads, and the words "alternative" and "rock" became forever mutually non-exclusive of one another. Yep, YOU BET I'm talking about the glory daze when a trip to CBGB's was truly worth taking, and the best records in the world still took less than a week (not to mention a million or two dollars) to make.

Now nobody needs me to tell them just how far off the brat-beaten track Rock and Roll has strayed these past couple of decades, but hearing Joey Ramone's dulcet tones and ever-deft turn of a cartoon phrase littering his posthumous "Don't Worry About Me" album only serves to remind us just how formidable a talent -- AND a spirit -- this literal giant was, and how the art (with a capital "F") form known as Punk is, like stickball, rockabilly, and other such brilliant all-American wastes of time, slowly but surely fading forever away. Rotten Johnny Lydon may have been right after all then perhaps: his Sex Pistols probably WERE the Last Great Rock Band, and with the voice of the gosh-almighty Ramones now forever mute as well, just who in hell remains, I ask you, to carry forth the proud torch of all things musically d-u-m-b? Kid Rock? Those candy-bottomed STROKES??! Oh, please.

Anyways, perhaps I digress. I'm really only here to relate just how positively life-affirming it is to hear an entire album's-worth of Joey Ramone again, straight from the Louis Armstrong sittin' pretty vacant kick-off of (I kid you not) "What A Wonderful World" dead on through to the more-relevant-than-ever cover of "1969" alongside the defiantly optimistic title-song which caps it all. And in between those two sonic bookends, we honestly must just marvel anew at Joey's wholly individualistic vocal approach and intonation even (ie: the word "pretty" on the afore-mentioned Satchmo song), while producer-in-arms Daniel Rey never once fails to keeps that reinforcing six-strung, cymbal-splashing Wall of Sound rigid, all-encompassing, and all but impenetrable to boot.

Now ever since he and the rest of the Family Ramone first crept out of Queens way back when, Humor (as in the certifiably-MAD Magazine / Bazooka Joe-flavored variety) has often served not only as a motor, but a modus operandi even for Joey and Co., and "Don't Worry About Me" certainly provides its fair share of nyuks (especially with the Sheena-goes-Wall-Street lust song "Maria Bartiromo," not to mention the thoroughly Bubblicious "Mr. Punchy," wherein no less than Sir Captain Sensible helps concoct the silly sequel to "Happy Jack" that unfortunately never was). Yet about halfway through our happy meal, things turn kinda inky dark (in an entirely welcome "Pleasant Dreams" kinda way though) as Joey -- totally understandably, of course -- turns his ever-keen eye and ear upon the state of the union circa Baby Bush administration, and what must have been just too many fitful hours spent splayed before his sickroom TV watching everyone from high school students to day traders being slaughtered in their desks. "Venting (It's A Different World Today)" is without one doubt the most bilously spot-on attraction herein, with the words "politicians talking through their assholes makes you really wanna kill someone" saying more on such subjects than a battery of talking CNNheads surely ever will. Alas, poor dead Joey: his great big, worldwide heart surely must have been broken many a time lately, whenever his remote strayed off "Get Smart" onto a New War On Terror or two.

Though, as "Stop Thinking About It" advises, "nothing lasts forever, and nothing stays the same." And while "I Got Knocked Down (But I'll Get Up)" paints quite a sordid picture indeed of our hero's final chapter ("sitting in a hospital bed," "I want my life," and "it really sucks" to quote but three all-too-telling soundbites), "Searching For Something" is, to these ears, the Joey Ramone song I shall most likely choose to eulogize the man, what with its Raymond Douglas Davies-worthy eye for lyrical detail driven by the kinda semi-acoustic, near-Nash Pop arrangement unheard since at least the quieter moments upon that "Road To Ruin." Why, if Bill Lloyd and/or Jamie Hoover are listening somewhere out there, then Gabba Hey, guys: HERE'S one gem more than worthy of the Def Heffer treatment!

Suffice to say Joey certainly got knocked down, but in the end never did get up. His loss should only serve as our gain however, in the grand pop-rockin' scheme of things, coz here's one big galoot who not only went out most defiantly singing, but in the process erected one towering epitaph for us all with these final, frantically fun recordings of his. A welcome addition no doubt to his already weighty canon of Romper Room genius, "Don't Worry About Me" absolutely deserves repeated listens by anyone and everyone out there who not only remember how those lowly Ramones once changed a simpler world, but why their fearless leader Joey, armed with nothing but a single mic stand tied behind his back, always stood stick-leggedly tall in pointing the way towards Truth, Justice, and yes, the (REAL) American Way. God bless you then, Joey. You've done your job, and earned your big sleep at last.

Long may you vent.