INTERVIEW: The Busy Signals
Busy Signals' Pop-Electronica-Hip-Hop Sound (Sugar Free Records)
By: Alex Steininger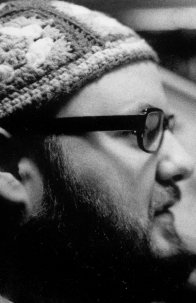 Somewhere among the worlds of hip-hop, electronica, and lush pop sits Howard W. Hamilton III, better known as the Busy Signals. Armed with just his sampler, 8-track recorder and the sounds in his head, HWH3 (as friends know him) manages to crank out danceable, gorgeous pop nuggets.

Hailing from St. Paul, Minnesota, HWH3 has released three beautifully crafted Busy Signals albums, all on Chicago indie label Sugar Free Records: 2000's Baby's First Beats, 2001's Pretend Hits, and 2002's Pure Energy.

Helped by friends Brian Tester and Amanda Warner (the duo known as Triangle), HWH3 has toured across the nation, converting fans at every stop. But trying to re-create the loop-and-sample-heavy sounds from Busy Signals discs onstage is no modest task.

"I don't believe in the way we are doing it right now," HWH3 says of the band's stage show. "I think it is pass? at this point. A lot of bands are doing it and pulling it off now. It's pretty tough for me to do it this way."

"I don't see any other way to re-create the songs live, though. I mean, I could play the loop and press a button, but that's no more impressive."

The current lineup finds HWH3 swaying on stage with the mic in his hand, like a grand MC, while Warner handles bass and backing vocals and Tester plays guitar and keyboards, all while beats flow through the PA.

"Right now I'm focusing on writing songs I can play live better," HWH3 informs me. "I'm playing guitar a lot more on the new stuff, making it so I can play it live."

The Busy Signals have steadily climbed into the hearts of indie-pop fans, coming from a humble beginning where HWH3 didn't even think he would ever release a record.

"The first record I made, I didn't think it would ever come out, and I didn't see any way to play it live," he remembers. "I thought I could record a record and never go on tour. But you need to go on tour."

After realizing this need, HWH3 and company hit the road, playing clubs throughout the Midwest and East Coast, and eventually making it to the West Coast. Solid performances at CMJ's New Music Marathon helped establish the band as a live entity.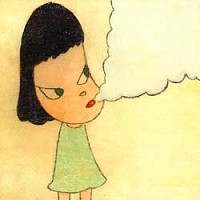 Regardless of whether it's live or on disc, one thing is for sure - the Busy Signals are about the songs. They're not flashy, nor do they try to ram their music down your throat. They're content writing clever pop songs and giving you time to let everything sink in. For HWH3, it's neither a job nor a hobby, it's a way of life.
"My music is at a very satisfying point. You can't compare it to too many things, and it is an exact representation of me," he confidently states.
"All the things that I think about are in the songs somewhere. It's a perfect representation of myself, without sounding like I'm trying to do that. The songs are about the same thing to me. They're about not worrying about being lonely."
Pausing a bit, HWH3 elaborates on that thought.
"There is a representation of a moment in each song. And I can see the moment every time I sing the song, and nobody else knows what it's about. I'm sure that is what everyone does. It's really strong and really important to have that for me. It's a documentation of a time period.
"There are some songs that are funny, that are about a moment when Triangle and I aren't getting along, and I make them play it live. They have no idea. It's not mean or anything. And then there are songs like 'Freeway', which is about the first time I met them, and the feeling of being with somebody that you can hang around with and when silence hits its totally natural. They have no idea and they've played it with me a thousand times."
HWH3, who says he can write music all day long but has trouble coming up with lyrics and vocal parts for the songs, has taken a new approach to songwriting. He now prefers to demo and mull over songs before recording them for release, whereas in the past he's been known to demo a song and finish it hours later.
He also says he is going to depend less on loops and more on conventional songwriting, relying on a guitar to lead the songs.
"I'm not interested in the beats anymore, if they're just going to be playing beats, like most of my songs have," he shrugs. "I think the next album will be a little bit folkier sounding. The beats will be smaller sounding. There will still be backing tracks, but it will be more me playing guitar. I think sample-based music is written by people who can't write a song. I'm coming from the other way where I just don't feel like writing a song on a guitar. But I can do it."
HWH3's next move is to release an EP, to test the waters with new software he has purchased for his computer, before diving in and creating the ultimate Busy Signals record.
"The EP will have loops, but it will be more varied," he says. "There will be beats, but it will sound the way a New Order song sounds. The loops will be there, it will just be a little quieter. It will be a transitional phase that will be a way for me to test all this new software I have."
After the EP, HWH3 has plans to put the Busy Signals on the map on a larger scale by recording the record he hears in his head but has yet to attempt to put to tape.
"I feel like the next thing I do will be the thing I'm remembered for," says an honest, confident HWH3. "As long as I can make an album that people can listen to, go back and buy the other albums, and not be disappointed, then I'm happy. What I want to do is release a five song EP and tour in support of that, and that will be just me. Then I want to record the record I'll be remembered for. The record will make all my other records great. I want to make a classic record that makes all my other records classic records. I know I can do it. It already happened in my head. I just have to live through it."
Calm and relaxed, HWH3 seems to know his music better than anyone else does.. When we start to discuss the reality of recording a record that will make all his other records stand out, HWH3 simply tells me how it is.
"One thing that is good about me is that I know exactly how good my music is. I don't think I have a big ego about it or anything. I just know exactly how good it is. I know I have the potential to do better each time I do something. That is something a lot of people don't have."
Planning to re-invent The Busy Signals while still giving old fans something they will enjoy, HWH3 has the game plan all mapped out.
"I am definitely going to do something with a different label," HWH3 informs me. "(Pure Energy) fulfilled my contract with Sugar Free. I want to try and see what it's like to work with someone else."
HWH3 has convinced me that he can deliver on his plan to propel himself into the history books with an unforgettable collection of pop genius. And since his first three records have heavily hinted at this lofty potential, why should anyone not believe him?