INTERVIEW: Richmond Fontaine
Country-Rockers Talk Gambling, New Album and More (El Cortez Records)
By: Kim Berhorst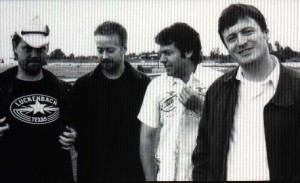 I like to put a Richmond Fontaine CD on at work at least once a week - fits the pub scene in the rural, Oregon pioneer town where I do my time. My co-workers hadn't heard Richmond Fontaine, though the bosses -- apparently big fans of the Portland country rock quartet which formed in 1996 -- have distributed copies of two of the band's albums, Safety and Miles From (Cavity Search Records, 1996 and 1997, respectively) as "approved listening" to the pubs in their chain. Lost Son (RF's last CSR release, 1999) got left off the list, probably due to that album's angry punk-rock stomps and erratic mood swings. The kinder, gentler songs of Winnemucca, on the other hand (released this spring on RF's own El Cortez Records), probably will make it into our pub's "alt-country" repertoire, prompting my co-workers to dig out their Son Volt, Wilco and Atomic 61 CDs. Most everybody there likes Richmond Fontaine - a lot.

While lots of people conveniently compare singer Willy Vlautin's lyrical ruralism to that of Jay Ferrar or Jeff Tweedy (don't get me wrong, they're leaders in their own right), I hear in Vlautin's lyrics his own plaintive drawl. What exemplifies Vlautin's songwriting is his storytelling ability, and this shines once more in Winnemucca. Also a writer and avid Raymond Carver fan, Vlautin has a knack for setting explicit narratives, with or without a handy rhyme (no run-of-the-mill country song formulas here), to complex soundscapes woven by top-notch players (no dowdy one-two, one-two backbeats set to two or three chords, either). Band members Paul Brainard (pedal steel, electric guitar, mandolin and dobro), Dave Harding (electric and upright bass), and Sean Oldham (drums), also have worked individually with such notable Northwest artists as Pete Krebs, Fernando, the Freak Mountain Ramblers, and Luther Russell. .

In sharp contrast to their last album, Lost Son, Winnemucca sees the boys of RF return to the melodic lines of pedal steel ballads and foot-tapping country rock swings in which they are so proficient. The new album also shows them with full independence firmly in hand; Winnemucca marks their second self-release (following the live compilation Whiskey, Painkillers, and Speed, 2001) on El Cortez Records, which they formed after two label deals went south. (By the way, RF is offering a great deal right now, which I happily capitalized on: Buy Winnemucca via their web site (www.richmondfontaine.com) and you get a sweet little limited edition poster of the cover art -- two guys dragging a third between them (artist Greg Allen's work also is featured on the band's web site) -- as well as Whiskey, Painkillers, and Speed, all for thirteen bucks. .

Illustrating the theme of hiding out, each of Winnemucca's eight songs and two instrumentals are stories unto themselves, forays into shady spots along Americana's highways and the darker doings of regular guys and gals.
Winnemucca: Basque Food, Gamblin' and Hidin' Out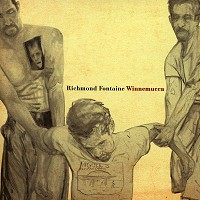 I met with Vlautin at one of his "lucky places" in his Portland, OR, hometown, a seemingly appropriate coffee shop/family diner called the Brite Spot Restaurant with it's Space Room Bar, to find out more about the new album. Regretfully, I was late for our meeting, and came upon him sitting with a near-empty, cold cup of coffee. But with his easy demeanor and plaid-shirted gentleman's manners, he quickly put me at ease and began to tell me stories of gambling in Winnemucca, his friends, his band, good luck charms, feeling ugly, and hiding out.
(Willy refuses a beer, says he's trying to be good tonight as he has a set of short stories he's polishing for submission. I ask him about the background for Winnemucca.)
Willy: "My mom lives in Reno, where I grew up, and I go home a lot, but I don't like to stay at home...and so, uh, I started goin' to Winnemucca like seven years ago to gamble, and drink, and hide, that kind of thing. So when we started tourin', I always made the guys stop by Winnemucca. After one tour we stopped by there for almost like a week, and just kind of gambled, drank, fucked around...I wrote some of the songs there, and the band worked 'em out there. It's just a little town three hours east of Reno - it's like a gamblin' town, it's a great place to gamble and drink, no one bothers you there. It's all kind of about hidin' out, the record, and that's one of the places I go to hide out.
IMWT: By yourself? Or with the band?
Willy: Yeah, by myself, or I'll go with a drinkin' buddy or a girlfriend, if I've got one, you know (laughs). But yeah, yeah, you know, it's a long drive, it's like a ten-hour drive, but it's fun once you get there. It's cheap. I've gone - me and Paul, the steel player, have gone on gambling specials there. You can pick 'em up there on MLK Boulevard at midnight at the Safeway, and then you drive all night, then you wake up in Winnemucca, you get a couple nights there. They have good Basque food - a lot of those guys came over and became sheepherders in northern Nevada, Idaho, some parts of Utah, and Oregon, and even some parts of Washington I suppose. But most of the restaurants are in Nevada, in northern Nevada. And so they've got the greatest food there, too. The Winnemucca Hotel's got the best food I've ever eaten. And even when I'm in Reno, visiting I'll spend a night out in Winnemucca, just so I can eat the food out there.
IMWT: And gamble?
Willy: And gamble (laughs). Yeah, I play roulette, a lot, I play 21 if I have the money - but I can play roulette all night, you know, and so I just play it and get drunk until I can't see anymore.
IMWT: Isn't that kind of dangerous, being a musician and gambling? You've got amps, you've got guitars...
Willy: It's all dangerous, I think, but you know, I don't gamble that much anymore. I gamble on horses, I bet on horses a lot, but you know, you try to keep it under control.
IMWT: And you met Dave Harding (bass player) at the race tracks?
Willy: Yeah, I'm a big horse race fan...But, yeah, I'm not the greatest gambler, no. I've lost - that's one of the reasons I left Reno. Just 'cause that kind of stuff starts gettin' you. You start cashing your paychecks at casinos, you know, because they give you five or six big drink tickets and a big breakfast if you cash you paycheck there, and you end up getting' drunk there and the next thing you know, you're broke. I've never gotten that bad. I've had friends that got that bad, I've had friends that lose everything, yeah, but I've never gotten that bad...when I did start getting' bad, I moved up here, so. And now I just bet the horses, I don't think I bet but twenty bucks a week, so I give myself twenty bucks a week, that's a hundred bucks a month...
IMWT: That's probably less than I spend on cigarettes.
Willy: Yeah, well, there you go.
IMWT: So was Winnemucca a theme you had in mind when you were doing the album?
Willy: No, actually, I didn't even want it to be named Winnemucca, and the other guys did 'cause they liked it so much there.
IMWT: They liked the town?
Willy: And just what it meant to them is kind of what the whole record meant, I think.
IMWT: How would you distill that meaning?
Willy: Just tryin' to hide.
Winnemucca: The Stories
IMWT: Tell me about the songs.
Willy: Well, I can just list them down...The first song's all about hiding "Winner's Casino," which is an actual casino there, is the only real good one there. And then, uh, "Out of State," the next song, is about hiding with your girlfriend, or wife, or whatever...
'Shut the cutains/put a blanket over them/we don't need to see that today/come back here/where it's clear and safe/don't worry, no one knows where we are/we could stay like this for days...' -"Out of State"
In that song, they're trying to hide out and she is uncertain, looking out the window like maybe someone's after them, but in the bigger scheme of things, maybe life's after them. And they're just hiding and he's saying, 'Look, we're out of that state, for awhile, out of our lives, out of whatever, so don't worry about it. You know, no one's gonna find us here, nothin' bad'll happen here, at least for awhile.' So that's what song's about.
And then, "Northline" is about this lonely guy who starts going out with a skinhead Aryan Nation kind of girl, who he believes is that way because of her boyfriend. And then she disappears, or leaves town, or whatever, with her boyfriend, and she writes him these letters, and they just kind of, like letters do, they just turn into postcards, you never hear from people again.
'Now there's a Mexican radio station coming through the wall/and her letters lay on the floor/covered in hearts and a drawn rose...maybe he was just adding weight to an already broken back/but my justification seemed clear/she was lost and isolation is my biggest fear...' -"Northline"
That's all about hating himself for going out with a girl like that, but being so lonely that he tries to justify what he does to go out with that girl. So in a broad sense, that's kind of under the same thing. He's so lonely he's just hiding in his own beliefs, and maybe she's hiding with the boyfriend under that thing of being like a skinhead. And that song's mostly about loneliness, I guess.
And then "Santiam" is about a work release minimum-security prison called Santiam Prison. It's like for fuck-ups; like a work camp - they go out and cut trees and stuff; it's for like DUII guys, drugs, non-threatening, nonviolent criminals - a fuckup's prison, really. That's about this guy, you don't know why he's going there, but his brother's driving him down, he's leaving town, and he's realizing that things are really beautiful here, and everything, even the warehouses, and stupid things, and the kids, and things he didn't like, he likes now, 'cause he's scared, and dreaming about a better - this place that he likes. It's all kind of about hiding out in a place you like.
'Don't drive too fast, but don't drive too slow/I just want to memorize every street and club and restaurant I know/even the young kids who are always wandering outside my street/always laughing and yelling when I'm trying to sleep/I know I really blew it this time...I can picture it right now in my mind/being back at the house...I hope it all looks the same/I hope it all feels the same/when I get back home...' -"Santiam"
And "Twyla" is about my favorite jockey at Portland Meadows, who I bet on every race. And she's like my good luck charm, so I wrote that for her. It's the same kind of thing as Winner's Casino's my good luck charm.
And then "Patty's Retreat" is a bar that got torn down. It was the only good workin' man's bar in the southwest, and the band has always a lot of really good times there. And that's Dave's favorite place.
IMWT: Oh, and they tore it down...
Willy: Yeah, and so we wrote that song for that. And then the song "Glisan Street," that's about this guy remembering seeing his old girlfriend - that's kind of just like an old country song, it's about his old girlfriend, she moves back to town, she lives in a room on Glisan Street, and so he's just scared to see her, scared to meet her, and he's just remembering that. It's about that feeling when you know somebody you liked moved back to town, and you're scared that every person you see is gonna' be them. Every restaurant you go to you expect to them to come there...
IMWT: So how many of your songs are autobiographical?
Willy: I guess it just depends on which song.
IMWT: So many of your songs are, in effect, narrations of stories that you seem to have very intimate knowledge of. Whether you made them up or are drawing on personal experience, it's hard to say. I find myself listening and wondering that with each song because the details are so intimate and it sounds like you're talking from personal experience.
Willy: Well, it depends. You know, like uh, "Out of State" is a real story, "Winner's Casino" is kind of a real story. Um, the one, "Five Degrees Below Zero" about the guy on the bus ride-I've done a ton of bus rides, I've always wanted to get off in the middle, and you know, but I never have. That's just kind of [about] the insanity of life, and seeing a bunch of crazy people, and being so scared of 'em, and angry at 'em, and I'm sure yourself, and what you're gonna' do...That guy lost everything. You don't know what from, probably drinking or gambling' or whatever, and so he's at the end and he doesn't want to see anything, really. He doesn't want to see a guy on speed or two guys drinkin' or some girl givin' herself a tattoo, or some big lady sittin' next to him and coughin', and with metal braces on her legs, and you know, that's the darker side of life on that bus, right then, and he can't take it, and so he's gotta leave.
'Ray Thaves at 2 am sitting towards the back of a Greyhound/He sits next to an overweight lady with metal braces on both her legs/and she sits there coughing/He tries to just look out the window/snow covers everything/and it's five degrees below zero/Having to move back into his uncle's house in Las Vegas/with no money, no apartment, no motorcycle, his music collection gone/everything's been pawned...He finally gets up and walks to the front of the bus..."Pull over! Pull over!" he yells at the bus driver...He gets off the bus in a T-shirt and leaves his coat and all his things aboard/as the bus pulls away he walks out into the desert...Swimming in a sea of rage that dissipates with the cold...He tries to find the highway but snow covers everything...' -"Five Degrees Below Zero"
And you know, sometimes, in the bigger scheme of things, if you leave, if you get scared and you run off and shit like that, you end up out in the middle of nowhere and you end up fucking yourself worse if you give up. I think he got scared and kind of gave up. And in the bigger scheme of things, it's about giving up. Like seeing crazy shit and not being able to take it, and maybe that's why he started gambling and drinking in the first place. Literally, he just ends up walking around in the middle of nowhere and can't find the highway. And it's five degrees below zero. That's the sad part.
And then the last song on that record is "Western Skyline," which I wrote for my Uncle Bill, who had a hunting accident near where I used to go fishing by this river called the Truckee River. And it's always stuck with me 'cause he died so close to where I used to hang out all the time. He got in a hunting accident when he was eighteen, he just fell on his gun and he died. And his buddy was out there with him - at that time there was nothing out there except that ranch house where they lived, in like a bunk house. They rented out this little place. And my uncle died, and it's haunted me that it was really hard on my family, and really was a defining moment in my family's life at the time, and, you know, really changed everybody.
'There was glass and blood everywhere/and I held him in my arms/There was no one around for miles...And you said, "I can't see. Can you tell me, where are we?"/There's a Western Skyline that I swear I can see/Where golden light shines down upon everything/And we will walk down the street under colored lights/and we will walk arm in arm as beautiful women walk on by/beautiful women that are so gentle and kind/Under Western Skyline you will be/And you'll be set free.' -"Western Skyline"
I always thought about that poor guy that had to fuckin' hold him and not know what to do: Do you leave him, or do you try to stop the bleeding? Or what do you do? And so, as in a drunkard's dream, or like you had a bunch of dreams and you think about what you'd say to a guy like that, you would tell him that there's this beautiful place, and I can see it, 'cause he can't see, for whatever reason, you don't know why he can't see. You would tell him, 'We're gonna' go downtown, and walk into casinos, and there'll be beautiful women that are really nice to us, everywhere. And the sky will be beautiful, and, you know, don't worry.' So that's what that song's about.
IMWT: When did this happen?
Willy: This was in 1968. It was a long, long time ago. I didn't know the guy, I'm named after him. He's my godfather, but I didn't know him. But it's hard on my whole family, 'cause supposedly he was the favorite one, you know, he was a great kid, and, a tragedy like that, you know, is hard on any family.
IMWT: So there's a very special story behind that song.
Willy: Yeah. For me, it's always struck me, and for me being around that area for so much of my life, uh, it was weird. I thought about it every time I was up there. I thought about it...And I saw the devastation his death caused my grandparents, my dad and my mom, and all that.
Richmond Fontaine: The players, the music
IMWT: So you worked with Luther Russell again on some songs?
Willy: Yeah, we brought him in on Winner's Casino. He mixed and recorded that one. And did mixing on "Somewhere Near." The other stuff we did ourselves.
IMWT: Did he play on the record?
Willy: No, Rich Landar (of King Black Acid, who plays piano on "Glisan Street") is the only guest. He's a great guy. He's friends with Paul, the steel player. He's great. And this was a great record 'cause this was like the first record Sean, our drummer, got to play on.
IMWT: Joe Davis, of the Pinehurst Kids played on Lost Son.
Willy: Yeah, and right after we put that one out, we started playing with Sean. And that's been great. And hopefully on the next record he'll get to show off more, 'cause he's the best drummer I've ever played with, by far. The greatest. He didn't get to show off as much on this new record because it's somber kind of playing.
IMWT: Did he want to show off more?
Willy: No, he's one of those guys - he's like, a song man. Whatever the song is, he'll play to it. He's played on a bunch of local records lately. He played on the new Fernando record. He's a great jazz drummer, too, he's a trained jazz drummer.
IMWT: I remember reading on the Cavity Search Records web page that you wanted to try to stay away from the "alt-country" tag for Richmond Fontaine.
Willy: Did I say that?
IMWT: Yeah - does that matter to you anymore?
Willy: No, I like it. I don't really care. I mean, that's the kind of music we play.
IMWT: If someone says to you, 'Hey, Willy, what do you guys sound like?', what do you say?
Willy: I just tell them, 'country rock, country punk,' something like that. Lately we're more country rock than country punk. Yeah, I don't really worry about it. Some people get really uptight about it. It's kind of a really weird group of people. Sometimes you're like, 'man, I don't want to be affiliated with a bunch of weird people like that, or whatever. But I like all the bands that people say are alt-country, I mean, I grew up listening to that kind of stuff. I grew up listening to country punk and country rock. So, yeah, I don't care.
IMWT: So do all of the guys in Richmond Fontaine listen to a lot of county rock?
Willy: No, uh, Paul and Sean are, um, like Sean's a jazz guy, he'll listen to anything. And then Paul loves country, but he plays jazz. He plays in a jazz steel band. He's like the lead guy and does all jazz stuff. But he listens to everything. And Dave, he listens to everything. I mean, Dave, I think, he listens to like, he's a big Bob Dylan, Neil Young that vein of fan. He's a real American roots rock fan. But Dave knows more about music and records of all sorts, from bluegrass to like soul, to jazz, more than any guy I've ever met. I mean, I'm probably the guy that's most limited in his music collection.
IMWT: That almost sounds self-deprecating...(laughter).
Willy: Yeah, I do that, quite a bit. No, but it's true. I'm the worst musician in the band as well, by far.
SXSW and BBQ, writing and gigging
IMWT: How was SXSW?
Willy: It was good. We played like five shows in Texas. But you know, all you do is drink. We went on this BBQ tour with this buddy of ours who took us to all these barbeque places. So for a week all we did was drink and eat barbeque, and blew all our money. All the money we made coming down we blew. So we just came home, and then we had two weeks on the road after a week of BBQ and getting drunk and stupid shit. And so, uh, that wasn't easy. Yeah, that wasn't a good idea. So I don't think we'll go back.
IMWT: Not enough return on the cost of the party?
Willy: No, but you get to see a lot of cool bands. Like I saw the Flatlanders, and got up in the morning and saw the Supersuckers at eleven in the morning. And that was fun, 'cause you get to see shit like that. At eleven in the morning. You get to see just great bands. It was fun. Oh, I don't know, we'll maybe go back.
IMWT: I've never heard of a barbeque tour before. Is that something you came up with yourself?
Willy: I just made that up. Yeah, when we're touring we hit all of the famous barbecue places. We always do that. We went to like four different BBQ places within an hour of Austin. That's what we do on the road is eat. You pick out certain places you like to eat in certain towns you go to. When we get to Kansas City we always eat BBQ, they've got good BBQ. And then once you get to Texas it's all BBQ, and so we just eat BBQ, like, until you hate BBQ. You know, which is hard to do. BBQ's great. We were at Salt Lick, and Stubbs, and Opie's...(recites a list)...Sam's...Stubbs is fun. Yeah, it's a very good time. Stupid stuff. Yeah, bein' on the road with those guys is good. It can kill you, but it's good.
IMWT: What's the worst experience you've had on the road?
Willy: I think the worst experience you can have is either band problems or a wreck, and we didn't have any of those this road trip. And there's never anything bad (reaches under the table to knock on wood). You know, bad gigs is about all. Like you might not be listed and you show up. Or you play shows where they list you the next night. And all the press says the next night, and you're playing, and it's all screwed up. Stuff like that'll drive you crazy. But we were lucky - we played with some really great bands last tour. We played some shows with the Sadies, a Toronto country rock band, which is as good a band as there is. And we played with this band called the Damnations, Texas sisters, country rock band, amazing band. Their guitar player's amazing. And the Kirk Hammond band, which is one of the guys from Split Lip Rayfield. We're lucky. Even on bad nights, if the band's are good, you play pretty good.
IMWT: And have your own little party.
Willy: Yeah, and you feel good. Like if a band as great as the Damnations or the Sadies are havin' a bad night, you go, 'Aw, life ain't so bad. At least I got to see the Sadies.'
But we don't tour that much. We're not a huge touring band.
IMWT: And why do you think that is?
Willy: I think it's just too hard. Sean's married, and Paul. And all of us, we don't make enough money. And me personally, I like keeping the band together and we'd have broken up by now if we'd been on the road a lot. Unless we had the money to live right on the road.
IMWT: To have your own separate spaces.
Willy: Or at least get your own motel room once in awhile, that'd be nice. I'm kind of a private guy. I like my privacy. And I don't mind hangin' out with those guys for three weeks every couple months, but if we had to do it all the time, it's a hard way to live. I don't know if I'd do it well. You've just got to make a living at it. You've just got to make more money.
IMWT: Is that more what you'd like to aim for?
Willy: I like what I do right now. I don't like touring all the time. I like writing stories and stuff and you can't do that when you're on the road all the time.
IMWT: So you do a lot of personal writing separate from your music?
Willy: Yeah, I've always written short stories and novels...I do that in my spare time. I do that when the band's taking a break. Sean's in Europe for a month...I'm just kind of taking a break and working on stories. We're all kind of taking a vacation right now. And so, when I go on vacation from the band I just write stories.
IMWT: So, there's got to be someone in the band who just writes the words because he can't play the guitar, right?
Willy: Yeah (laughs).
IMWT: I'm kidding!
Willy: No, it's true! No, I mean, I like writing songs more than I care about playing guitar. But I didn't start writing songs because I couldn't play guitar. I just started writing songs because I felt like writing songs.
IMWT: Words in your head...
Willy: Yeah, and just trying to get stuff out when you're a kid. My brother bought me a guitar when I was a kid...
IMWT: It was a left-handed guitar?
Willy: Yeah, I was having a hard time, or whatever, and they thought that might help. So that was a good, lucky thing. No, but I'm by far - like, every guy in the band can play better than me. But I've got my own little thing going, and I try to do it. But, shit, Paul can play anything, Dave can play anything, and Sean can play guitar better than me.
IMWT: Everyone has his own little thing.
Willy: Oh, yeah, and I love those guys. We play together really well. I'm lucky to get to play with those guys.
IMWT: Well, I imagine they feel lucky to be playing the stuff you write.
Willy: I don't know. They're still there.
IMWT: Do you find yourself writing songs after momentous events? I mean, after something dramatic or significant happens, do you find yourself picking up and writing a song? Is that one way you process stuff?
Willy (answers quickly): I might write like twenty songs.
IMWT: Twenty?
Willy: Naw (laughs), really, I might write like five or six songs, or maybe five versions of a song, 'cause four...suck. And then I finally hit on one, and then I kinda' work through it. Like, uh, you break up with a girl or something and you might write some songs about it, but none of them are very good, and then two years later, maybe you sit down and you got a better perspective...That one, though, I didn't write multiple versions of it. I didn't have to work through the whole process. It's hard for me to write anything unless I've figured it out a little bit.
IMWT: Does the writing come first?
Willy: You mean the music or the words? Depends on the song. I might think about a song, like it's an idea, or a story, or a situation, and then I'll be playing guitar thinking about that, and just kind of, the words come. My folk songs - I've been writing a lot of folk songs lately - they all come words first, and then I just try to find the right music to fit, trim the words, you know, make them fit the music. It all depends. I haven't written a rock song for more than six months. I've just been writing folk songs.
IMWT: What's the difference between where you're at now than six months ago?
Willy: I don't know. It's just a state.
IMWT: It's in the air?
Willy: Yeah.
IMWT: Have you been listening to a lot more folk lately?
Willy: Not really. I've been listening to a lot of Nebraska, I've always loved listening to them ever since I was a kid.
IMWT: Does it have more to do with the vehicle for conveying whatever you're thinking about?
Willy: Yeah, it gives you more freedom to write lyrics. And we pretty much have the next Fontaine record ready to go, and so it gave me some freedom to write a bunch of folk songs that I didn't have to bring to the band or don't have to worry about performing anywhere that I don't want them.
IMWT: I've been noticing that you've got more solo gigs. Have you been doing that a little more, or are you wanting to? Does it help you explore songs more before you bring them to the band?
Willy: You know, I always like playing with the band. I like those guys. Shit, we've been together seven years now, and they're my friends. And so obviously I'd rather play with them than by myself. I play by myself because you can make some money that way, and it's fun, it's freedom. You can play songs that the band doesn't like, or don't work very well. And so, I've always done them, but I do them more when people ask me to. Sometimes people ask me to, and it's nice. But I'd always take my band over that sort of thing any day of the week. Just 'cause I like those guys. They're cool. Yeah. People ask me, 'Why don't you explore different things, the music, and different players and stuff - I like the guys I'm with. I kind of stick to what I like. They've been good to me, and so I'll try to be good to them, you know?
IMWT: It's hard to imagine you playing without them.
Willy: Yeah, I don't even want to, you know? If I do, I'll probably play without some of 'em. I just kind of figure, you know, when a guy's ready to go, he's ready to go. You know, it's hard, we don't make very much money, and it's hard to keep everybody together, so I don't care if a guy's gotta' go, he's gotta' go. But I'd still like to be his drinkin' buddy and friend, you know.
IMWT: You mean you're not in it for the money?
Willy: No (laughing), I wish I was. I'd probably be livin' a lot better.
Letting go of Lost Son, bad record deals, and feeling ugly
IMWT: So, when you say that Winnemucca's about hiding out, is that a sentiment that you felt like the rest of the guys had? You did three records together, this is the fourth you've put out, is this something that's just kind of affected all of you?
Willy: I think it's kind of an answer to Lost Son, which was such a dark record. A brutal record. And I was feelin' that way when I wrote that record. And I think when I woke up from that phase of writin' like that, or feelin' like that, it's like when you wake up, you're really skittish. It's like if you get really drunk one night, and did a bunch of crazy shit, or maybe you were mean to somebody you shouldn't have been, or done somethin' you shouldn't have done, you wake up the next morning and you just want to crawl in a hole. And never come out again, and just hide out. It's like you just got the shit beat out of you - Like you just got beat up. Like if you get in a fight and you get beat up, you might not leave the house for a week after. You'll go to a job, or whatever, but you might not feel like being out in public and takin' a chance again - for awhile. That's what I was trying to get at. That's why Winnemucca's soft - it's like being scared, and all about hiding. It's not supposed to be in your face, it's supposed to be easy, slow. Like you are after some traumatic accident, or something.
IMWT: Did you feel it was like taking a risk, after putting out a really dark record like Lost Son?
Willy: Well I didn't think it would take us so long. I thought Lost Son would get done and then we'd turn around and do Winnemucca or whatever record within a year. We just had record company problems. And so, yeah, I didn't think it would take so long. So we had to live with that (Lost Son) for two years, which was kind of hard.
IMWT: Why was it hard?
Willy: Because it (Lost Son) is such a dark record. It's hard to listen to.
IMWT: It's a great record.
Willy: A lot of people just found it really hard to listen to.
IMWT: So it was a transition you had to make, that you had to go through, to just walk away and do something different.
Willy: Yeah. I wanted it to be really ugly. And I knew - it's a really hard record for people to listen to because it's acoustic one minute, and then it's totally punk rock. But yeah, I thought it was the darkest record I ever want to make, kind of thing. And so, I really like Winnemucca because it is the other side of that, and it's an easier listen as well.
IMWT: So after Lost Son, did you consciously think, "Okay, let's do something lighter now?"
Willy: I think I started writing those songs because I was so tired of feelin' like that last record. Because I was feeling like that. And it's just so dark, and I didn't want to feel like that anymore. And so I kinda' was trying not to. I mean, Winnemucca's just as dark in some ways, but it's musically not as dark, maybe. I wanted the kind of record that you'd consider sittin' to drink to, like in the mornin', or whenever, or late at night. Just put it on repeat and it just bein' an easy ride, you know, like hidin'. Nothin' to kill ya.
I think I was just so burned out from writing the punk rock songs, and the way of feelin', like I said, that made me write Lost Son, that I just wanted to write. Like I was saying, waking up the next morning after doing something bad, that feeling, waking up and you don't feel like yelling, you just feel like singing these mellow songs and not bothering anybody. That's the kind of mood that I was trying to get at. And the whole thing of Winnemucca was about hiding, escaping, hiding out. Bailing and trying to get away from that.
IMWT: So you went from being angry and wanting to yell, to hiding out and being a little bit more reflective. What's the next step?
Willy: Aw, yeah, Lost Son is just so full of death and the darker side. Yeah, I got scared to be there myself. And so therefore I put out the next record. And then this next one, well, I'll have to talk to you about it when it comes out. I'm not sure. It's pretty far away and songs always change, you know. Songs you think are gonna make it never make it. Some songs you never thought would make it, make it. So I'll talk to you about that later, if you want. Hopefully it will be good.
Independence and indie label wrangling
IMWT: So you guys started your own record label, El Cortez Records.
Willy: Yeah, well we had a couple deals fall through, and there was one that took almost a year to negotiate, and then that record company filed Chapter 11 like two weeks before we were to sign the final contract. And we'd already decided on it. And so we waited for like almost a year for that to happen, and then they filed Chapter 11.
IMWT: Bad luck turn.
Willy: Yeah, and you never make that much money from it, so we took the chance and decided to put it out ourselves. 'Cause it was cheaper, and we didn't want to wait another six months to find someone else to put it out. It just takes so much time to get a lawyer involved, and it costs money, so we just put it out ourselves. And it's gone all right. It's selling better than any of our other stuff. And it's nice, because the guys get to see money coming in, and we seem to have more money now, just to pay our bills, and the band bills, than we've had in the past. And then we own it, which is cool, and then we don't have to buy them for like five bucks. A lot of indie labels make you buy the records for like seven bucks, or what they're selling them for to the record stores. So you're out on the road and you've gotta' come up with the money. Say you're on the road for a month and you want to buy three hundred CDs; that means you've got to come up with some twenty-one hundred bucks, just to go out there? So. We don't have to deal with that anymore, and we're real happy about that. For our level of playing I think it's probably just best for us to be this way. Whether or not we're successful at it, remains to be seen.
IMWT: What do you call your 'level of playing?' How would you define that?
Willy: I mean our level of selling records and stuff. We really, like, minor league. I mean, we're probably like a single 'A' baseball team (laughing).
IMWT: A lot of good bands are.
Willy: Yeah, a lot of good bands are.
IMWT: How do you feel about going completely independent, owning your own records and running El Cortez?
Willy: Well, I don't really do much. None of us do. I mean, we're a pretty bad bunch of businessmen. But we've got a manager and she's great. And she's been really good to us. And she kind of takes care of stuff. I like it. Like I said, it's, for what we do, it's working out for us so far. So we'll see if it does in the future. I don't know. Right now, it seems to be better than it has been in the past. It's a lot cheaper. And with the Internet, it seems crazy to give your records to some label that's gonna turn around and charge you five to seven bucks just to buy 'em.
IMWT: Yeah, there's not a lot of money to be made in either end, mostly, I mean, everyone's trying to pay bills, so it's a hard exchange.
Willy: Yeah, like I understand there's the label's side. But I've never understood how a label could want you to tour and then make you buy your records for what they're selling them to record stores. And mostly they just want you to go on tour, and they don't give you any money, or set-up... But I got no complaints. We own this record.
IMWT: That's got to feel very good.
Willy: Yeah, we'll see.
IMWT: So how did you get into contact with the artist who did the art for the limited edition posters and the album cover?
Willy: Oh, he's a good friend of mine from Reno named Greg Allen. Yeah, he's a great artist. He's one of my only friends left from Reno that does stuff like art and I go visit him every time I'm there - which, I'm going there on Monday for a couple weeks. And he's just great. One of the greatest artists I know. And Reno's like any western city that is growin' so fast they tear down all the old buildings, 'cause it's cheaper than redoing an old building, to put it up to code and everything, and then they put in some kind of strip mall or something. So he'll paint pictures of all the old casinos and old bars before they tear 'em down. And he's a great artist. I was just talking to him the other day, about how we were the only ones left dumb enough to just keep doin' it and doin' it. I was just really, really happy to get to use his art for this record 'cause the record has a lot of Nevada things in it, and so I wanted to use him. And that's actually him on the cover.
IMWT: In the middle being dragged around?
Willy: All three of those are him. The whole idea of that is that there's always a part of you you're draggin' along. Maybe there's two-thirds of you that are kickin' pretty good, and then maybe a third of you is on your back and you've got to carry it around. I think most people are like that to a degree, they might change, there might be just a little bit that you've gotta be carryin' around. But for him, it always feels like there's a third of him that's just not movin' that right, and so they have to carry him.
IMWT: That's a great way to put it.
Willy: Yeah, I thought so. I really like his stuff. And then all the artwork on the inside is by him. There's the Morris Hotel in Reno. And then there's this old man - this guy who owns a Mexican restaurant called Miguel's - he's a big UFO fanatic, and a pretty interesting guy, and both Greg and I ate there as kids...
Coming soon from El Cortez Records
IMWT: So you have another record down?
Willy: Yeah, mostly. The majority of it. But we're going to tour this summer some, and then we're gonna' do an instrumental record. But I don't know, that one we'll maybe put out in the fall. And that might just be like a limited release, kind of like the live record we did. But it'll be cool. It'll be a lot of good steel songs, and a lot of atmospheric stuff that the band does in practice and does at shows but doesn't ever get put on a record. And then probably next spring or after Christmas, we'll put out another Fontaine record.
Hopefully the instrumental record we'll do this summer might be kind of a fun record.
IMWT: More upbeat stuff?
Willy: Yeah, and spooky, kind of crazy stuff.
IMWT: Experimental stuff?
Willy: Yeah...
IMWT: There's a little bit of that on Winnemucca, in the instrumental "Patty's Retreat," which seems a more impulsive exploration of guitars and sounds, with a vague theme running through chaos.
Willy: Yeah there'll be a lot more of that. And it'll be something we'll try to make a good listen. And then there'll be some country instrumentals that we like to do.
IMWT: Such as Twyla, which is a lovely, melodic country instrumental. And then the other stuff that you're working on, the next record?
Willy: Yeah, we're gonna' do like a big rock record, in February or something like that.
IMWT: When you say rock, do you mean more punk?
Willy: Well, it'll be darker - it'll be spookier, louder. I don't know, we haven't made it yet, so who knows. We'll see how it all pans out.
Good luck charms: Twyla Beckner, the Space Room and Portland
IMWT: Listening to Winnemucca, I sense there's a lot of nostalgia there.
Willy: Well, the songs are about a lot of places I like. There are a lot of things I like in there. A lot of tributes. To Twyla, and more.
IMWT: Does she know that you wrote a song about her?
Willy: Naw. I'll talk to her, but I don't' know her very well. She's cute. She's a good luck charm. She's been winning me money lately. So hopefully Portland Meadows will start up again in the fall. They've got some EPA problems. And so, I'll lose more money on her, or maybe I'll win this year.
IMWT: Maybe one of these days you can hand it to her.
Willy: Yeah, I'll give it to her...Yeah, there are some tributes. I tend to do that a lot. A lot of songs that don't make records are like that. I got good luck charms all over the place, things I like. Like the Space Room, and Annie's Donuts up on 72nd. The Rosewood Theater. I pick my lucky places.
IMWT: Are you pretty superstitious?
Willy: I just like things that are good to me. Like my friends. The guys in my band. They've been good to me. So I would never leave 'em. Unless they start fucking me over (laughs). I kind stick to what's nice to me, and then move on from there.
IMWT: How do you feel about being in Portland? It's a pretty small town, does it ever get to you? I mean, like with the label stuff, little things like that.
Willy: Portland's always been good to me. I'd rather live in Reno...
IMWT: That's home to you?
Willy: I'd eventually like to move back there, but right now it's not feasible. Portland's always been good to me. There are great bands here, there are a lot of cool people here. The musicians here have always been cool to me, I've always been able to play in the bars here. And when we tour, we do better elsewhere than we do here. I'd rather play in Seattle actually than Portland.
IMWT: Why?
Willy: Just 'cause the crowds are better. I think we'd probably do better there than we do here. But I like touring, we just don't tour all the time. We tour like a couple months a year is all. I like playing on the road better than I do at home if the crowds are decent. It's more fun, you don't know anybody...
IMWT: Less inhibitions?
Willy: Yeah, probably. But Portland's been good to me. I moved here because of Crackerbash. 'Cause they came through Reno, and I thought they were so cool. And I met Sean Croghan after the show, and he was such a nice guy, 'cause he's just such a kind of sweet, gentle guy, and they were such a fucking angry band - and he was so angry jumpin' around, and he's such a bad-ass guitar player, and his band was so good, and you know, I moved up here (in '96) not just because of him, but I was just like 'Wow,' if a guy like that and bands like that live up there, then (shrugs), and then I moved here. And then, like two years down the road, I got to play shows with him. And that really made me feel good - it boosted my confidence a lot. I felt a lot better. And all those guys have been nice to me - like Pete Krebs, those old school punk rock guys [from Portland] - they've always been good to me. Like Jim Talstra, and John Moen, those guys, I don't know them that well, but they've always been pleasant, real nice to me. And so I'm very lucky. So I've not been ready to move anywhere. I've thought about moving to Austin, but I don't like the weather. Yeah, so Portland, I can't say a bad thing about it. It's been great to me. I'm very lucky. And it's fun. I like the bars.