INTERVIEW: Rocket from the Tombs
Heavily bootlegged, Cleveland's infamous punk rock band returns
By: Alex Steininger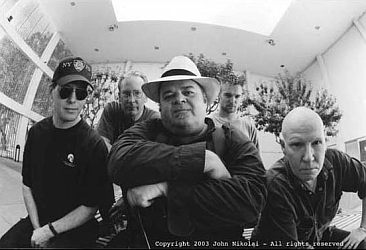 Flash back to 1975. Cleveland's infamous punk rock act Rocket from the Tombs -- featuring vocalist David Thomas [A.K.A. Crocus Behemoth] (who went on to form the influential experimental-punk outfit Pere Ubu), bassist Craig Bell, guitarist Gene O'Connor [A.K.A. Cheetah Chrome] and drummer Johnny "Madman" Madansky [A.K.A. Johnny Blitz] (both of Dead Boys fame), and guitarist Peter Laughner (deceased, 1997) -- formed the short lived, but not-to-be forgotten outfit.

Flash forward to 2003. With Television guitarist Richard Lloyd playing Laughner's parts, and Pere Ubu's Steve Mehlman on drums, Rocket from the Tombs reformed, hitting the road for a well-received tour in June.

"The band is incredible. I love playing in the band. It's a true rock band with a monkey on its back. Five guys with volatile personalities locked in a tin can. That's another element. It's a one-act show but it's explosive," says Lloyd of the reformed Rocket from the Tombs.

Having always been a fan of the band, and friends with guitarist Cheetah Chrome, and, as Lloyd puts it, in a position original RFTT guitarist Peter Laughner wanted -- being the guitarist for Television -- it seemed only natural for him to fill Laughner's spot when the band reformed.

"Yes and no," he says, answering the question as to whether or not it feels weird filling Laughner's shoes. "Peter had his eyes on my job in Television. There is this incautiousness going on."

"I always thought Cheetah was a great guitarist and underrated," he adds.

We begin discussing the history of the band, Laughner's contributions to RFTT, and his untimely death due to liver failure (caused by alcoholism) in 1975.

"He pulled a gun on us so that ended his relationship with Tom [Verlaine, Televison's other guitarist]. He was on a self-destructive path.," Lloyd informs me, giving me background on the madness that fueled -- and killed -- one of punk's most unsung guitar heroes.

"The more I play Peter's songs," Lloyd continues, "the more I realize his talents that didn't make fruition. I'm representing him by making good on something. I'm writing the wrong and standing in for him since he can't do it himself. What he brought to the band will never leave."

Following the tour the band entered Lloyd's studio and recorded their first ever studio album, 28 years after the band broke up.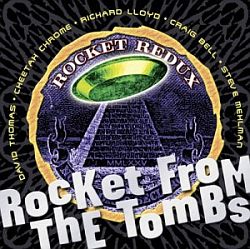 Rocket Redux, released February 24, 2004 on Smog Veil Records, is the outcome of that recording session and includes twelve classic RFTT cuts, including longtime favorites such as "Frustration", "30 Seconds Over Toyko" (well-known in its Pere Ubu form), "So Cold", "Sonic Reducer" (later known to Dead Boys fans) and "Final Solution" (another one that made it into the Pere Ubu catalog), as well as two Laughner-penned ones, "Life Stinks" and "Amphetamine".
Recorded for the first time nearly 30 years after they were written, the songs pack the sonic boom and loud, energetic thrust that made them bootlegged treasures all these years.
With the live shows and recordings living up to the hype, what is in store for Rocket from the Tombs? When asked about a tour or a new batch of songs, Lloyd is quick to respond.
"I guess you've never been on tour," he tells me. "We're taking a break. Another tour is the last thing you want to talk about after 11,000 miles and being stuck in a van with five other guys."
However, he does like the idea of writing and recording new material.
"I brought a song to the band. Since everyone else sings, I figured I'd better bring in something and not be a shill," he jokes. "We learned the song during sound check, the song I wrote." The band went on to play it throughout the entire tour, leaving a lot to wonder if, following Rocket Redux 's course, if a batch of new studio songs isn't in the works?