The Lawrence Arms
Apathy and Exhaustion (Fat Wreck Chords)
By: Erik Holmlund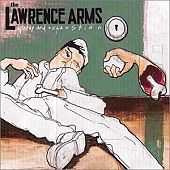 Larry Arms, as their friends (not me) call them, have been nothing if not prolific since their beginnings, with a wealth of releases on Asian Man Records including a great split with The Chinkees. Their first release on Fat has firmly established these Midwestern punks as a pop-punk force to be reckoned with. Not quite as politically charged as the late, great Broadways or even earlier Lawrence Arms albums, this release sees the group taking a more introspective look at the world around them. This may put some older fans off, but to me it suits the more polished sound of this record.

The band's song writing has taken a real leap forward, adding more hooks and melody than I would have expected from these guys. Yes, as usual Fat has taken the edge off of a band's sound and added a sheen that didn't exist before. Again, to me, it really works on this album. If you can get "The First Eviction Notice" out of your head without taking a hammer to your skull, I congratulate you.

If you are a fan of Alkaline Trio or The Honor System, two more great Chicago bands, I am sure you'll love this album. It's the best album that Fat has released in a while and I'm going to give it an A-.