Supersuckers / Electric Frankenstein
Splitsville Volume 1 (Music Cartel)
By: Alex Steininger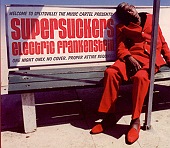 How much rock can one take? The Supersuckers and Electric Frankenstein put you to the test, teaming up for Music Cartel's first split CD entitled Splitsville Volume 1.

The Supersuckers, as always, give you loud, guitar-soaked, rhythm-heavy rock and roll, wild and fun, perfect to blast if you want to have a sure-fire good time. Their five songs, including "Then I'm Gone", "Shit Fire", "Devils Food", and "Kid's Got It Comin'" ensure your rock cravings are fulfilled. Of course, what would a Supersuckers rock show be without one country song? "Teenage Shutdown" gives the people what they want, cooling off the heat of the rock for a bit so you can enjoy some country.

Then it is on to the rock once again. Electric Frankenstein turns it up a notch, burning you with red-hot guitars and a rhythm section that rolls right over you. "Sweet Baby Ignorance," "Rip It Apart," "Good For Nothing", and "Not This Time" are what you'd expect, pure, steamy rock 'n' roll. And, instead of a country song, Electric Frankenstein ends with "She's My Bitch", a Supersuckers cover. How fitting.

If you want rock 'n' roll and can't decide which band to put into the CD player, don't stress out, just put in Splitsville Volume 1 and hear two of the finest rock bands out there today. I'll give this an A.