Crooked Fingers
Reservoir Songs EP (Merge Records)
By: Alex Steininger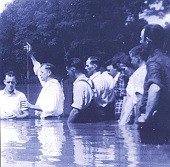 Five cover songs make up Reservoir Songs EP, the latest offering from Eric Bachmann's Crooked Fingers. From Kris Kristofferson's "Sunday Morning Coming Down" to Bruce Springsteen's "The River", Crooked Fingers turn the classic numbers into beautifully composed, bright pop songs that glow and shine with vibrant colors, preferring quirky hooks and a low-key approach over anything else. And his banjo-driven, demented country meets pop gone wrong rendition of "Solitary Man" is one of the most twisted, if not inventive covers of the past five years.

Bachmann is a genius in his own right, writing clever, infectious pop songs. So when his mind gets the chance to twist and mold others' songs, he has fun with them, as is clearly evident on Reservoir Songs EP, one of the better cover albums out there. I'll give it a B+.