Dora Flood
Welcome (Dora Flood)
By: Alex Steininger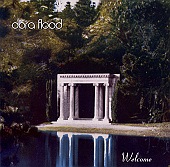 Where Dora Flood's previous full-length, Lost On Earth, floundered, sounding murky and too restrained to really give the songs the push they deserved, their latest, self-released effort, Welcome, finds the band writing similar sounding space songs, this time with a bright shine to them.

Swimming around in your head, the songs have enough echo once they reach your ears that you find yourself tapping your feet and singing along to them, something that Dora Flood fell short on with Lost On Earth.

Incorporating a slightly Brit-pop essence to the songs, the space element allows the songs to float, while the Brit-pop brings forth the rock, ending in a precise marriage of sounds that makes the songs work.

This is a good album from a band that has jumped leaps and bounds since their last effort. The album shows a lot of hard work and dedication on the band's part, so the listener won't have to try so hard to get it. I'll give it a B+.