Nik Freitas
Here's Laughing At You (Future Farmer)
By: Alex Steininger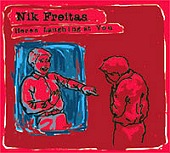 Nik Freitas' songs on Here's Laughing At You are rooted in traditional pop songwriting. However Freitas goes beyond the pop norm and delivers some indie-folk coated with warm melodies and hooks, giving him room to roam around and do more then just make you bounce and sing along.

His jangly melodies are often suppressed underneath a light layer of darkness, giving the songs an eerie feeling, oft-mysterious, as you wonder what is going to come next, knowing a little about what to expect, but since Freitas doesn't reveal it all up front, you wait anxiously.

The result is a loose record that somehow is pulled together, as Freitas jumps around from dark folk to warm pop, track to track, leaving you trying to figure out how it all fits together, before he shows you the light and makes it all make sense.

This is a solid collection of lo-fi, delicate pop songs that, although don't open up to you on the first listen, grow on you more and more with each listen and soon become stuck in your head and CD player. I'll give it a B+.