Nik Kershaw
to be Frank (Koch Entertainment)
By: Alex Steininger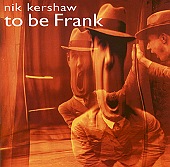 Following 15 Minutes, Nik Kershaw's latest, to be Frank is a warm, well-recorded pop album with a lot going on. Kershaw's voice is in fine form as he leads the organic pop structure of the songs, helping to ensure the melody and vibrancy of the album hits you hard and makes you warm up to the songs quickly.

On some songs, like the melancholy, "Show Them What You've Made Of," Kershaw lays down the full-on production, stripping away the pop and delivering a tender folk piece with just his acoustic guitar and voice, bringing you to tears over the sheer power and emotion of his voice. And when he hits you with strings, you want to fall in his arms.

This is a tender album with hooks, a rare treat, and something that is hard to come by. to be Frank is a pop album that will not grow old or find you bored after a few listens. I'll give it a B+.