Ray Charles
Thanks For Bringing Love Around Again (CrossOver Records)
By: Alex Steininger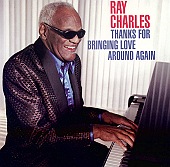 Soul-pop songwriter Ray Charles still has music in his fingers, using his piano to lead the band through soul-drenched songs that will make you dance and smile, forgetting about the troubles of the world for a minute while you live in the moment with the music.

His rich, deep voice is the modern voice of soul, worn and tested, perfectly fitting for his songs, which come straight from his gut, delivering the emotion that is lacking in a lot of modern music.

A crooner who can write the absolute love song, Thanks For Bringing Love Around Again is an album that will romance even the toughest of critics, a powerfully moving piece that reminds us why soul music has brought so many lovers together.

From the throaty title track to the funky bounce of "I Just Can't Get Enough of You" through jazzy "New Orleans," Ray Charles seems to still have it. The ability to perform meaningful songs with plenty of heart, like the music is pumping out of his veins and into your ears. I'll give this an A.