The Reputation
The Reputation (Initial Records)
By: Alex Steininger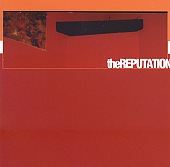 Lead by former Sarge front woman Elizabeth Elmore, The Reputation deliver a fast, break-neck pop album that shimmers and shines with elegance and class on tracks like "This Town" and "The Uselessness of Friends...", and drive dangerously with outbursts such as "Misery By Design" and "Either Coast".

The first half seems to rock you like a hurricane, while the second half of the album settles down, maybe due to maturity, preferring texture and style over a wall of sound. At any rate, both portions of the album carry themselves commendably. I'll give this an A.