INTERVIEW: Donny Osmond
Randy and Donny: Toe to Toe
By: Randy Harward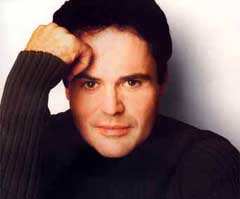 (originally appeared in Salt Lake City Weekly) Is Donny Osmond the goody two-shoes everyone perceives him to be? Maybe, but he's certainly a good sport when subjected to an interview of questionable substance:

Randy: Would you mind saying something for me, to test the recorder? Like, maybe--'Donny Osmond is a punk-ass beotch?'

Donny Osmond: (nervous laugh) Wha...? Say that again?

R: Donny Osmond is a punk-ass beotch.

DO: What is that?

R: Beotch is a derivative of the word "bitch." It's the hip-hop vernacular.

DO: [laughs] Why would I say that?

R: You don't have to say it. I asked that on a dare.

DO: [laughs] Oh, I see.

R: You know, I used to watch The Donny and Marie Show all the time when I was a kid. I thought Marie was so hot.

DO: Oh, really? You and a lot of other people.

R: Why'd you dump her?

DO: Why did I dump her? Um--I got married.

R: So, I noticed you used a Jim Steinman song, "No Matter What," on your new album, This Is the Moment. You know, there were so many great Jim Steinman songs to choose from, like "Bat Out of Hell" or "Paradise By the Dashboard Light." Why not do those?

DO: Uh, that's not a Jim Steinman song.

R: It's not?

DO: [laughs] No. That's an Andrew Lloyd Webber song.

R: Wait--it says on the credits that it's by Andrew Lloyd Webber and Jim Steinman.

DO: Oh, he wrote the lyrics? I guess I should read the credits more. Anyway, "Bat Out of Heck" didn't sound very good [laughs].

R: So, will you be including "Soldier of Love" in your set?

DO: Sure. I'm even going back to "Puppy Love."

R: What was the inspiration behind that?

DO: I like dogs.

R: Okay, now your stage show: are you going to have any blood or fire or naked chicks, or will you fly out over the crowd in the Technicolor Dreamcoat?

DO: Um--all of the above.

R: Alright! Can I get on the list?

DO: [laughs]

R: Plus one?

DO: The list for what?

R: To get into the show.

DO: Yeah, sure!

R: Cool, thanks! Do you have a magnificent entrance planned? Like, when I saw Motley Crue once...and White Zombie, too...both Vince Neil and Rob Zombie were launched onstage from below.

DO: I actually do something kind of cool. I found footage...it's not a graveyard or anything...of me when I was thirteen years old that I didn't know I had, in my basement. [I was] signing, "Go Away, Little Girl." I sing with myself. A duet, thirty years later. It's kinda cool.

R: Would you ever consider yourself the LDS Pat Boone?

DO: [laughs] Don't...don't liken me to that one! I don't wear white shoes.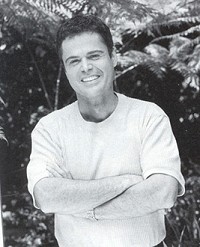 R: What color are they?
DO: Black. And I don't drink milk.
R: What do you drink?
DO: Water. In a dirty glass.
R: So, do you think we could stage an exhibition fight between you and me, before the show?
DO: Let's do it, buddy.
R: You wanna go? Toe to toe?
DO: Yep.
R: Alright. You're going down, Donny.
DO: Oh, no. You're dead! You're dead meat. You're yesterday's dinner. I once had a boxing match with Danny Bonaduce. Did you hear about that?
R: No, I didn't.
DO: It was fixed. They claimed him the winner, but ESPN and Sports Illustrated all said I should've won. I had more points.
R: Will there ever be a rematch?
DO: Why stoop?