The Chargers Street Gang
Holy The Bop Apocalypse (Get Hip, Inc.)
By: Alex Steininger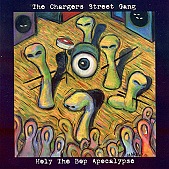 Sweaty, beer-stained garage rock that screams punk ferocity from every note. The Chargers Street Gang's Holy The Bop Apocalypse, recorded by none other than Tim Kerr, is a dynamite explosion of rock music from a quintet hell-bent on infecting the minds of the sane and bringing them over to the insane side.

Twelve tracks and forty-one minutes of loud, partying garage fury to wet your whistle, The Chargers Street Gang make the most of every minute, not wasting a second, as they scream over the guitars, with the rhythm section slaying the background. Restless and relentless, this is what garage rock should embody. I'll give it an A.