Jerry Joseph & The Jackmormons
Conscious Contact (Terminus Records)
By: Alex Steininger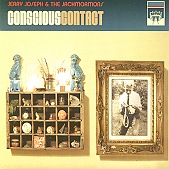 With guests like Chuck Leavell (keyboards for The Rolling Stones and George Harrison) and Vic Chestnutt (adding backing vocals on "Your Glass Eye"), the West Coast's longstanding hippy-rock favorite Jerry Joseph & The Jackmormons easily create their best album to date.

Conscious Contact is ripe with tight production and flawless performances from the band. Jerry Joseph's songwriting shines too, as he reaches deep inside himself to capture some of his finest moments. From the piano piece "Your Glass Eye", with Vic Chestnutt adding beautiful backing vocals, to the bouncy, fun work of "Conscious Contact," through the gritty "The Fastest Horse In Town", Jerry Joseph and The Jackmormons provide plenty of rock for fans to feast on.

This is unmistakably Jerry Joseph and the Jackmormons, but they push the envelope on what they've done before, testing themselves and finding their boundaries, as they look long and hard to capture the essence of rock with the groove of the folk-tingled, hippie-jam outings they've done before. I'll give it a B+.