Sunday's Best
The Californian (Polyvinyl Records)
By: Alex Steininger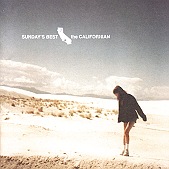 Sunday's Best's Poised To Break was a solid debut, displaying a band that could write melodic indie rock songs that went from straight ahead power-pop to an emo-esque style. On The Californian, however, they find themselves and gel as a band, making their sophomore offering the complete package, an album that sounds like an album from start to finish (rather than a collection of songs, which Poised To Break sometimes felt like).

Another thing that makes The Californian a milestone for Sunday's Best is that it doesn't wear its influences on its sleeve. Poised To Break was quite catchy, but seemed to take the easy way out and find quick relief in the bands that Sunday's Best was trying to emulate. The Californian takes the high road and comes together quite nicely.

A lot more focused and methodical, The Californian doesn't leave the rock out, however it is not a power-pop record by any stretch of the imagination, and it doesn't even hint at emo.

"The Try" sounds pretty. The borderline falsetto vocals of Edward Reyes makes the song sound approachable and heartfelt, without making it sappy or whiny. All the while, Sunday's Best does what they do best, offering up rhythm section-driven rock music propelled by the guitars, which go from sparkling and sweet to noisy and distorted.

"Don't Let It Fade" simmers with its rich, melodic structure, dripping like rain on a windowsill after a hard day's rain in the sun. Reyes' voice sounds like it is reminiscing about a girl he used to know, one he thought he could help, tried to, but always wished he could do more. As he sings about this person in his life, you start to form an image in your mind of a girl you used to know. One that fits the same description he is painting for us, and you can't help but cry a tear or two for that special someone.

On "The Salt Mines of Santa Monica" Sunday's Best throws caution to the wind, cranks up their amps, and goes for it, ripping out a rocker that blazes the trail with loud guitars and a speedy tempo. Somehow, they manage, amongst the guitars buzzing, to keep things melodic and explosive, hooking you and reeling you in for a well-composed rocker that feels quite comfortable in any environment.

Following it up with "If We Had It Made," an easy-going, gentle number that just sits back and allows you a little time to think, the quartet sums up what they're all about. Having fun, rocking out, and still serving up music that will get stuck in your head as you sing along and get motivated to search inside yourself and think about life.

"The Salt Mines of Santa Monica" and "If We Had It Made" fit so beautifully next to each other. They are Sunday's Best's two extremes, a rocker and a song that is gentle enough to put you into a slumber and have peaceful thoughts.

"Our Left Coast Ambitions" is another buzzing rocker, while "Without Meaning" counters its rock-ness. Throughout the album the band is able to mold these two songs styles into one, letting go of it for a bit to lean one way over the other, before coming back to the center and doing what The Californian will surely be known for. This is a well-thought collection of strong, lingering songs that won't leave your mind any time soon after you hear them. I'll give this an A.