Sunday's Best
Poised to Break (Polyvinyl Records)
By: Alex Steininger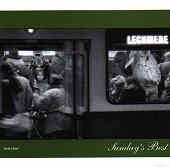 Sunday's Best delivers sharp, melodic power-pop-emo with intriguing lyrics you actually want to listen to. The songs are hooky, stylish, and full of bright beats that get you moving while the guitars will burn inside you.

A bit too pop for emo, but a bit too emo to be just pop, they combine the two styles and brand it with their own party-boy, heavy drinker rock touch. Songs about girls, drinking, and partying may seem shallow, but they add substance and solid backing to the widely covered topics. But, even if you're too snobbish for the lyrics, the melody will get you every time. I'll give it an A-.