The Standard
August (Touch and Go Records)
By: Alex Steininger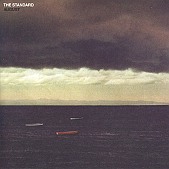 Portland, Oregon's The Standard deliver a truly unique sound on their sophomore full-length, August, a sonic explosion of guitars, keyboard-driven atmosphere, and front man Tim Putnam's cathartic, raw vocal delivery.

From the opening of "A Year of Seconds", an atmospheric rocker that uses space and volume to its benefit, The Standard mesmerize you with their daunting combination of instrumentation, lyricism, and vocals.

"The Five-Factor Model" follows, opening up with keyboards that toy with your mind, echoing throughout the song, playing the part of the hook, while the band slowly enters, accompanied by Putnam's unforgettable deliver oozing with honesty.

The song builds and builds, eventually pausing for a few seconds, letting you sweat during the silence, before attacking you with full-on rock that disguises itself as slightly experimental, space-pop gone haywire.

The epic six minute number then tones itself down, changing colors like a chameleon, ultimately sounding like "The Five-Factor Model", using the elaborate and the sparse to intertwine you in the maze that is this song.

The dark piano of "Angelicate" contrasts the album's title August beautifully, sounding more comfortable in late October, early November than in the heat of the final summer month.

On "Angelicate" Putnam's lyricism is the main focus, along with his voice, the two using the gentle nature of the music to make you weep, the words melancholy, while the music offers a glimpse of optimism.

"Paper" is the band's version of a pop song, a hooky number that gets stuck in your head, thanks in large part to the chime of the keyboards, while the soothing vibe of the music and the breeziness of Putnam's voice gently relax you.

Going out with "The Quiet Bar", The Standard help you wind down from a forty-five minute record that will leave you completely frozen in place. A stellar, mind-blowing collection of powerful, provocative instrumentation coupled with honesty and feeling, a combination that can't be beat. Putnam and company are the saviors of innovation, making it clear that original and thoughtful music is still being made, and that the mindless filler on the radio is not the only option. If only The Standard were the standard. Music would be in a lot better space. I'll give this an A+.