The Standard
Wire Post To Wire (Yep Roc)
By: Alex Steininger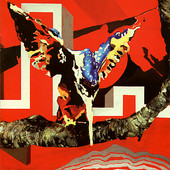 On their third full-length, and first for Yep Roc, the North Carolina-by-way-of-Portland, Oregon quintet The Standard deliver a masterpiece of angular guitars, melancholy pianos, quivering vocals, and post-punk momentum.

From the onslaught, "Metropolitan", a six-minute epic display of the band's fiery rhythms, razor-sharp guitars, and swelling melodies. It comes to a head and explodes in controlled anguish, the tension pulling in every direction, while front man Tim Putnam, and his vocals, bleed emotion, giving the song a pulsating, heart stopping sound that will make you tense up and become one with the song.

"Ghosts for Hire" finds the band blending primitive rhythms with a post-modern rock attack, reeling you in with a hooky guitar riff, before the brooding number makes you sweat, it's intensity too much for one man to take. However, after sinking into it, you realize the fragility of the song and become warmed by it, entrenching your body and mind even further in its alluring, mysterious ways.

Then there is "Folk Song", which begins with just piano, before Putnam enters and the story unravels, finding you, the listener, hanging at the edge of your sweet, curious of what wrong turns the character in the story will take in life. As the story builds, so does the music, drums and bass making their presence known, all without taking away from the piano or Putnam's voice.

"Unicorns and Chemicals" is both dark and dazzling. The cryptic lyrics raising your curiosity, while the airy guitar textures give a late night entrenched in fog sound. All while the piano goes from sullen to sparkling, giving the song a majestic edge that makes you listen even more attentively to Putnam's lyrics, still clueless when he says "I wish there were unicorns and chemicals".

The Standard has upped the ante. Here they prove that the third time is the charm, creating something that is timid, bold, light, and dense at the same time, a majestic record that navigates itself without any cares, and while doing so plows its own musical course that many others are sure to follow. I'll give this an A+.