La Musica Della Mafia
IL Canto Di Malavita (PIAS America)
By: Alex Steininger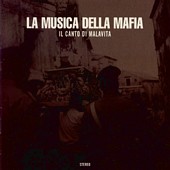 An album full of Calabrian music passed down through the ages of the 'Ndrangheta (the Calabrian Mafia), Il Canto Di Malavita contains songs of innocence, crime, and prison life. It is rooted in culture, sang in beautiful Italian, and captivating those that don't even speak the language. It is proof that music is the universal language.

The lyrics are first presented in Italian and then translated into English in the hefty CD booklet. But without reading the lyrics, you can pick up on the emotions, the feelings, and the sorrow of the songs. Reading the lyrics confirms what you already know, in some cases ruining it, as you create your own meaning for the song before being handed an answer if you look for it.

This is a CD of exquisite taste and beauty, a breathtaking piece of cultural differences and the similarities of human life. It is uplifting and sorrowful, a true masterpiece. I'll give it an A.