Lach
Kids Fly Free (Fortified)
By: Gary "Pig" Gold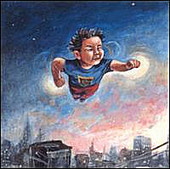 For those still not fortunate enough to survive within walking distance of Manhattan's lower east side (where Lach continues to present his Sidewalk Caf? Anti-Hoots on an extremely regular basis), here is a full CD by the man expertly produced by the one, the only Richard Barone.

Please be forewarned, however, the opening one-two knockout of "Holy Days" and "Human Boy" serves as severe notice, straight off the proverbial bat, that herein's one less kind, gentle, FAR-from-conservatively-compassionate Lach --and the expert drumming throughout of the deservedly legendary Billy Ficca certainly helps keep this mission powerful and on-track throughout (ie: just LISTEN to how our friend Ficca positively propels "He Wanted To Talk About His Art" into the farthest-most wing of the MOMA!)

Longtime-loving Lachheads will recognize their anti-hero's so wily way with a word evident especially in "I Love America (But She Don't Love Me)," chockfull of sentiments made all the more relevant in our current atmosphere of, um, Dubya-ness (then just to be on the unsafe side, a rip-routing version of Woody the G's "This Land Is Your Land" follows). But then "Sally's Gone Blue," not to mention the too-cool-for-words "Secrets Theme," would hardly sound one spec outta line on the fourth Monkees long-player even!

So then, Lach goes Pop? Just for a few minutes maybe. But more truthfully, here's one feller with more weighty messages to send your way today. Kindly pick up on them, and this.