Adam Marsland
232 Days and Counting (Cockeyed Ghost)
By: Gary "Pig" Gold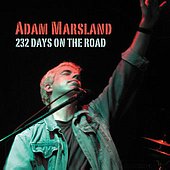 Empty bottles and cigarette butts
The smell of piss and paint and I don't know what
Ten people lined up at the back of the hall
Hey you! Are you listening at all?
May I kindly get a wee bit technical here for a minute or two? Because you see, where I come from (Toronto by way of Merriam-Webster), the letters "Pop" actually form an abbreviation of the word "Popular." As in Pop(ular) Art. Pop(ular) Culture. And, yes indeed, Pop(ular) Music. One cannot stress enough how important this point is whenever we ruminate upon why your or my favorite recording artist has not yet, and most likely never ever shall be accepted, embraced, or even recognized in the least by that great big all-knowing, all-consuming American pop(ulace) at large idling restlessly out there.
I'm pretty darn sure Adam Marsland long ago learned the hard, but Fun way to never ever separate the Pop from the Popular however, as for many many years (and miles) now, despite -- or more likely because -- of his proud isolation from major entertainment mechanizations, he can be found either out on some gosh-forsaken stage somewhere or, failing that, driving en route towards or from the next point on that itinerary from which to mount his one-man, one-guitar-or-keyboard assault against lyrical lethargy, melodic mediocrity, and heinous corporate (sponsored) skull-drudgery everywhere.
In other, less run-upon words? Never for a moment content to simply remain the pseudostar within his own rehearsal and/or chat room, here's one guy who's not afraid to put his hands, mouth, and vehicle-du-jour where his demo tape is.
A bit of background to this amazing saga then, please: "I made three critically acclaimed CD's in the Nineties with Cockeyed Ghost," Adam informs the uninitiated, "when our label went bust in '99. So the band made what it considers to be our finest album, LUDLOW 6:18, on our own dime in 2000 but were unable to tour behind it. Believing in that CD as much as I did though, I decided to hit the road on my own to promote it."
Hit the endless grey ribbon he most certainly did, and repeatedly so. Four -- count em! -- national tours to date, all self-booked too (Adam doesn't sleep, you must understand). And while the Pentagon might not want to talk numbers anymore, by cracky I will: Our hero duly chalked up a whopping 195 shows in 232 days during the twelve months following LUDLOW's release, and when all was said and run he'd not only tallied a title up for his latest release, but in the process pumped the odometer on his crusty 1994 Toyota Tercel DX smack dab to the 50,000 mile point!
That's right, I said fifty-thousand. Not fliers, not postcards, web hits or even e-mails, but real, whitewall radial-shredding, Big Mac-fueled honest-to-Interstate miles. Yessir, like the late, very great Ricky Nelson before him, Adam sure don't mess around, boy.
And to digitally cap it all right off right in the nick of time, your heapin' helpin' of precisely just such honest, immediate, straight-from-the-heart-and-the-floor sentiment is now available in shiny disc form right over there at http://cockeyedghost.com Lovingly captured as only Wonder-engineer Robbie Rist can and did, 232 DAYS ON THE ROAD comes to you complete with an additional bonus hat-trick of previously-unearthed tracks too, all three recorded almost live in the studio alongside two-thirds of those actual C-eyed Ghosts. In all objectivity, I can attest to this being the kinda live album that should stand proudly in your rack straight alongside Raymond Douglas Davies' THE STORYTELLER, Elton's 11-17-70 and even, dare I claim it, BEACH BOYS' PARTY!
Of course, as some learned soul once astutely opined, "Adam Marsland has the unique, paradoxical gift of being painfully sincere and sarcastic at the same time." Nodding what's left of my head in total agreement I remain truly honored to not only know the man, but to have hung with him on all but 230 of the days in question --not to mention witnessed him sing practically all of Brian Wilson's "Solar System" last time he blessed New York, New York with yet another jaw-inspiring gig, I'll have you know.
Welcome to the Real Thing everyone, and long may he (and that Toyota) run.
Oh!
And we just couldn't let the man go again without asking our--..
EIGHT QUESTIONS for ADAM MARSLAND
1. "Munsters" or "Addams Family": which one's for you, and why?
I like the "Home Depot" theme song.
2. Who in the world, living or dead, would you most like to play a game of Twister with?
Joan Jett. Wouldn't THAT be a frustrating afternoon.
3. How many Sid King & The Five Strings records do you own?
Um... I like Syd Straw????
4. Got any good Shonen Knife stories?
Hmm... well, we toured with them for about a month back in '97. There was one night I stayed on their tour bus. We'd had a really lousy gig in Victoria, British Columbia; everyone else had gone to the hotel to shower and it was just me grouching to Michie Nakatani about how tired I was and that I had to drive 1,500 miles the next day on one hour of sleep. Michie just went to her bunk, opened a suitcase which basically contained wine bottles and a few clothes, and asked, "white...or red?" Michie knew how to handle that kind of situation.
They were really incredibly sweet. I'd just injured my knee and had this huge leg brace on, and at the first gig, they insisted on carrying all my gear, even though they are all about four feet tall and the headliners on the tour!
5. "Ginger" or "Mary-Ann": Which one's for you, and for how long?
Why not both, and for as long as everybody was happy?
It would really be up to them, wouldn't it? I'm in favor of girl power.
6. What single song -- living or dead -- do you most wish you'd written? And why didn't you?
Probably "A Million Miles Away" by the Plimsouls.
I didn't write it because at that age I was listening to Captain & Tennille records.
7. Whose guitar would you most like to be reincarnated as?
sweaty, greasy, caffeine and nicotine-stained hands on a weather-beaten fretboard... ewww. No thank you.
Death, where is thy sting?
8. In 2000 words or less: your hopes, aspirations, and goals -- musical and otherwise -- for your life and your country?
I want to be able to play music and enjoy myself for the rest of my life. Speaking of which I like the old country guys -- Johnny Cash, Marty Robbins, Willie Nelson -- but I'm not into the new stuff much.