Adam Green
Garfield (Rough Trade Records)
By: Alex Steininger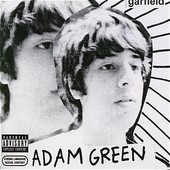 The Moldy Peaches' Adam Green took some time away from his band to deliver a lo-fi singer-songwriter pop album entitled Garfield on Rough Trade Records, the same label The Moldy Peaches call home.

Garfield is a collection of intimate, sloppy, melodic, primarily acoustic ditties that showcase the other side of Green's songwriting. Though the songs are raw and stripped away of any noise to hide behind, Green still makes the best of his abilities and crafts lo-fi pop goodness. With lyrics that are funny enough to make you laugh and serious enough to make you pay attention, Green allows himself room to screw up without too much of a penalty.

One of Green's smartest moves is recognizing his abilities. Instead of whispering his way through the album as he strums an acoustic guitar, he adds bass and drums to a lot of the tracks, giving them a bounce that helps harvest his hooks, making the songs that much more enjoyable.

He also doesn't wallow in anything. He seems to be enjoying himself, making music because it's fun and makes him happy, not because he wants to exert demons or get on a soapbox. It is this dedication and love for his craft that elevates him over those with more technical skills but less smarts on how to use them.

Garfield makes you feel good the first time you listen to it, which will get you listening again. Listening to it again, it will grow on you. Soon you'll find yourself listening to it more and more, always understanding Green and his songs a bit more. I'll give it a B+.