VARIOUS ARTISTS
Caroline Now! The Songs Of Brian Wilson And The Beach Boys (Marina Recordings)
By: Gary "Pig" Gold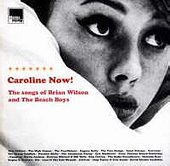 It's certainly no novelty anymore to find all and sundry fawning over America's greatest living contemporary composer ...I mean, even that self-possessed surf music basher Paul Simon hired Brian to be his open act all one summer long, and can you believe I actually saw Ricky Martin, um, performing "California Girls" at Radio City Music Hall recently?

At any rate, here's a nifty little album from Marina Records that'll help us all forget about those kinda sonic aberrations: Alex Chilton performs "I Wanna Pick You Up," The High Llamas visit "Anna Lee The Healer," Jad Fair asks "Do Ya," and Kim Fowley even sings "Almost Summer." Now THAT'S more like it!

God save Brian Wilson, and remember everyone, to Mike Love, not war.