The Mooney Suzukis are coming! The Mooney Suzukis are coming!
By: Chica Lishis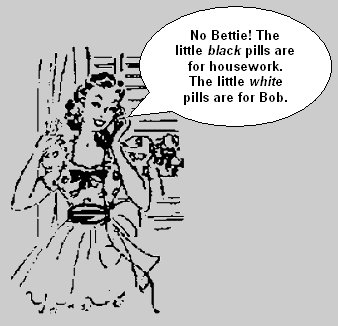 "The Mooney Suzukis are coming! The Mooney Suzukis are coming!"

The shout rang out through the land, far and wide. Such excitement and anticipation glowed from my normally haggard features when Alex called to inform me that myself, and a guest, were, indeed, going to see Mooney Suzuki on the company dime. Oh joy! Oh rapture! Oh shit! I need a date. One stop shopping at Dates-R-Us, and I procured me self the services of The Spaniard. (Shut up! You'd pay for it too if you had ever sampled the wares.) I gloated over my immense good fortune on getting to see a favorite band up close and personal in the coziness of Berbati's.

The night was a frenzy of bands, five all told, with the best of the opening bunch being Sahara Hot Nights. Four very young, very hot, sweeties from Sweden who sound as cool as they look. Boys and girls alike gawked at the stage as those little chiclets ripped through one song after another, in oh-so-tight hip-huggers and t-shirts (so that's what the Swedes are wearing these days... hmmmm). They were hella good and I had to hella restrain The Spaniard from running off after them once their set was over.

Finally it was time for the four lads of Mooney Suzuki to hit the stage. Their press kit has long touted their live shows as "...a wild explosion of sweat, sound and energy", which is a damn accurate description. The boys flop and jump and run and huff and chug and prance and fling themselves out among the crowd with wild abandon. I've seen 'em play small clubs and large venues; their stage show always fills the room regardless of size.

So, me and The Spaniard, and 300+ peeps in the club are digging it. We're whistling, we're grooving, we're drinking and singing along and generally having a fantastic time, but there's this dipshit in front of us, right up at the stage, shaking up PBR long-necks and letting fly all over the place. I mean, this bitch was tossing beer around as if it were some substance other than precious, mouth-watering BEER, brewed to be worshipfully drank and savored. As if that wasn't bad enough, she had no skill in beer spraying; her shake was weak and when she did manage to execute a spray, it did not reach expected arc or loft guidelines for even the most amateur of beer spraying standards. With all the PBR she was packing, the damage could, and should, have been much worse. Still, she was drenching the stage pretty good. This so pissed the band off that they stopped the show at one point to request a cease and desist, and then finally cut the set short and got the hell out of there before her dousing fucked up every piece of equipment they had on stage.

Now you know, as Americans, we can forgive people of anything if they are at least somewhat attractive; and if they're really hot, then they are understandably above the law (i.e. Someone should have electrocuted Keanu Reeves years ago for his performance in... well... everything, but he's so fucking good looking, 'ya just can't bring yourself to condemn his no-talent ass. And then there's that band of his... but I undress. I mean, digress.) However, this homie was homely which, of course, makes her crime even more severe. Ugly people know that forgiveness is reserved for the beautiful, that's why the unattractive are also mean. Anyway, this ugly (and by default, really mean) girl is a menace and should be hunted down for the set-shortening shit-head that she is. Did her $10 ticket give her the right to cut into everybody else's enjoyment of the blessed Mooneys? Even though I uh... got in for free, I still feel ripped off and, of course, I can't blame the band (back to the "They're Hot" law of nature), so my disproportionate amount of anger has been channeled into hunting this dog down.

The very next day I stopped in at Police Headquarters and demanded an appointment with the sketch artist. I informed our friendly men and women in blue that I would need about a thousand "Wanted: Dead or Alive" posters, once the artist had drawn up a reasonable composite. After arriving back home, with my butt-crack still smarting from it's unanticipated meeting with concrete sidewalk due to a police force with NO sense of humor, I used the skills I acquired in Art Appreciation 101 and created my own identifying picture to pass on to you.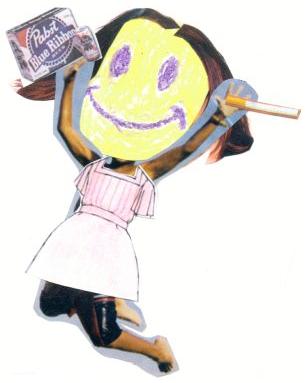 Okay, so it's not a perfect facsimile. I mean, her face did have a nose, but with the insertion of a case of Pabst and the cigarette, it's a real reasonable rendition of what this broad looks like. So, if any of you see this women, please smash a bottle of Zima (For God sakes, enough beer has been spilt!) over her head immediately.
And if any of you see the Mooney Suzukis, tell them Chica says "Hi y'all," and that the big, bad beer slinger has been "eliminated" and shall never, ever bother them again.
The days are getting chilly, my children. It's time to haul those paint-splattered fur coats out of the back of the closet. Need more tips on staying toasty? Just jingle me at [email protected].