The Aluminum Group
Happyness (Wishing Tree)
By: Alex Steininger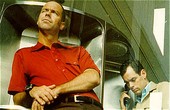 The fifth full-length from Frank & John Navin, with guest appearances by members of Tortoise, The Sea and Cake, and more, Happyness, the latest from The Aluminum Group stands out as a stellar collection of pop songs that found their groove. They know how to shake, how to bop, and how to rock, mixing all together so subtly you hardly notice as they flow from one to the next.

Creating classy, textured full-sounding pop songs, The Aluminum Group may not trade in the lush or the orchestrated, but their pop songs stack up nicely against either of those, ripe with emotion, and dark enough to consume, while uplifting enough to put a smile on your face. I'll give this a B+.