Bill Hicks
Flying Saucer Tour Volume 1 -and- LoveLaughterAndTruth (Rykodisc)
By: Alex Steininger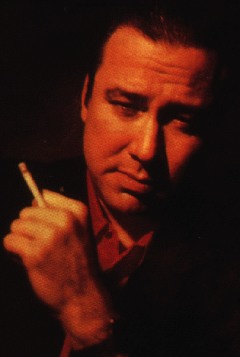 On Saturday, February 26, 1994, comedian Bill Hicks passed away of pancreatic cancer. His last gig was on January 6, 1994 at Caroline's in New York City; though he did not complete the series of shows he had been scheduled to do.

A true success story, Hicks, who came up in the L.A. comedian ranks, playing alongside then-unknowns Jay Leno, Jerry Seinfeld, and Gary Shandling, Hicks, who always wanted to be a comedian, soon found himself on the Letterman show through the support of Leno.

With a rigorous touring schedule of 250-300 shows a year, Hicks, who hated traveling, was one of the hardest working comedians on the circuit, and it paid off for him. Over the course of his career he released two albums (1990's Dangerous and 1991's Relentless), HBO aired an all-Hicks episode of "One Night Stand", and was declared "Hot Stand-Up" in 1993 by Rolling Stone Magazine.

A breakthrough seemed closer than ever. Then he was diagnosed with cancer. Informing his family and a few close friends, Hicks didn't slow down, working just as hard, if not harder, in his pursuit to make the world laugh.

In 1993 he recorded his next two albums, Arizona Bay and Rant IN E-Minor, both of which were released posthumously on Rykodisc. He left very specific notes on how they were to be sequenced, edited, and released.

The first two posthumously releases released without Hicks supervision, LoveLaughterAndTruth and Flying Saucer Tour Volume 1, were carefully culled from hundreds of hours of performances Hicks recorded for his personal use.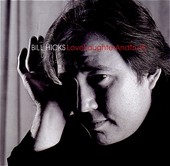 The first, LoveLaughterAndTruth, is compiled from recordings made between 1990 and 1991 in Denver, San Ramon, West Palm Beach, San Francisco, and Pittsburgh, a tough stint where Hicks was received by less than enthusiastic audiences. In conjunction with the Hicks Estate, Hicks' personal tapes were reviewed and bits that weren't previously released were edited and compiled into this disc.
Over 120 pops were removed, seven sections were de-hissed, and the files were diced and edited into over 400 pieces in an effort to create a smooth flow from patchwork source material. This is because a lot of these personal tapes (unlike shows Hicks recorded for the sole intent to publicly release) were recorded on sub par gear.
The other disc, Flying Saucer Tour Volume 1, the first in a series of many, was recorded on June 20, 1991 in Pittsburgh, PA in front of an audience Hicks dubbed "the worst audience I've ever faced".
Pulling out all the stops to win them over, Hicks used every trick in the book to get the crowd on his side. The result is a magical performance that shows Hicks at his best.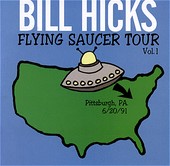 The Flying Saucer Tour series is meant to offer fans a non-edited portrayal of Hicks' performances. However, Volume 1 is edited, with good reason.
Upon listening to the large amounts of live shows Hicks had taped over the years for his personal use, it became apparent that the more compelling performances took place in front of audiences that were less receptive to Bill's brand of humor. And though these crowds frustrated him, they made him work twice as hard to win them over.
In 1991 Hicks played an extended series of dates at the Funny Bone in Pittsburgh, PA. The venue was supportive of Hicks, but the local crowds weren't, and were especially aggravated by the club's no-smoking rule.
Due to Hicks' quest to win the crowd over, his usual 50-65 minute set turned into more than 80 minutes of pure genius. Because of this, the tape ran out. Rather than to allow the show to cut off, which is what happened on the original source tape, a decision was made to edit the closer, replacing the cut-off one with a closer from another night.
Still, you hear Hicks' at his best, fighting with the crowd because they don't laugh enough, venting his frustrations, and proclaiming "this ain't the fucking Arsenio Hall show, so shut the fuck up".
Two treasures from the Hicks vault, longtime and new fans alike will marvel in Hicks comedy, which is more relevant today than it was when it was originally performed (see his bit on George Bush Sr. and his thoughts on war). I'll give them both an A+. This is comical genius at its best.
I want to leave you with one thing. At Hick's memorial service, his brother read something Hicks had written and requested be read:
I left in love, in laughter, and in truth and wherever truth, love and laughter abide, I am there in spirit.
- Bill Hicks