Bobcat Goldthawit
I Don't Mean To Insult You, But You Look Like... (Comedy Central Records)
By: Alex Steininger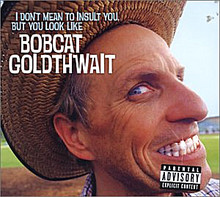 You know him! He's that comedian that pops up on TV shows and movies, the one with that really annoying, screechy voice that grates on your nerves. And as much as I want to hate him for that voice, it's enduring. Its childlike innocence and charm (despite the crude language coming out of it), making you want to befriend him because you don't know whether you're laughing at his jokes or his voice and his ability to get up on stage with that voice and do what he does.

I Don't Mean To Insult You, But You Look Like Bobcat Goldthawit, Bobcat's latest comedy record, deals with fame, celebrities, Hollywood, sex, drugs, and other comical aspects of life. His outlook is hilarious and, if you hate his voice, it grows on you throughout his set, before long it becomes as natural as his effortless punch lines.

It's a good comedy record. Would you expect less from Comedy Central? I'll give this a B.