Chris Murray
Raw (Asian Man Records)
By: Alex Steininger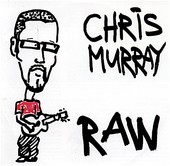 On Chris Murray's third solo album, Raw, the Jamaican roots music he creates is stripped down to the bare essentials, primarily an acoustic guitar and vocals, recorded on a hand held Walkman tape recorder.

With special guests Alex Desert and Deston Berry (Hepcat) and Neville Staples (The Specials), the raw recordings, which would flounder under the hands of anyone else, sound lively and danceable. The poor recordings actually helping to propel the Rasta mood, keeping in line with the theories and principals of reggae, foregoing any perceived limitations or boundaries and just going for it.

The one down fall is, without anything else to carry the songs, the numbers soon start to sound the same, Murray's voice and acoustic guitar allowing each track to blend into one another. Except when he goes from an upbeat to a slow song, otherwise the defining structure of the songs can get blurry.

Raw, despite its limitations, which also help the album thrive is, above anything else, a fine example of a songwriter at his peak, pulling off a Walkman recording with merely an acoustic guitar. I'll give it a B.