Chris Richards
Pathetic History (Futureman / Jam)
By: Gary "Pig" Gold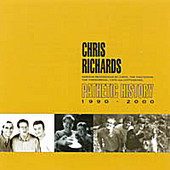 "A collection of pop songs recorded between 1990-2000 throughout the wooded suburbs of Detroit," the tray card describes this FAR-from-Pathetic collection of recordings by and for Chris and his various permutations (namely the Pantookas, Hippodrome and those truly Phenomenal Cats). But what a collection this actually is!

From the opening whiplashes of "Superman II" (as if the Brothers Paley had hijacked Teenage Fanclub for the afternoon) and "Easy Come Easy Go" (which somehow encapsulates the Hollies' entire career in two-minutes-sixteen!) clear through the concluding Michael Brown-colored magic of "I Need A Heart" and "Maybe I Need You" (PS: an actual Left Banke cover appears elsewhere as well), the arrangements and instrumentation (ie: mariachi horns on "Chance"; a guitar fit for fellow Motor City madman T. Nugent powering "Gabrielle") are matched only by the soaring melodies themselves in terms of sheer, shimmering ad venturousness.

I'll admit that "Seagirl" has long been a personal favorite (http://www.tomlou.com/cats.html), but even my ears were quite unprepared for the majestic understatement that is "Falling Again," an absolute textbook example of how a classic piece of pop SHOULD be built and performed. Two words in conclusion then, everybody: Required Listening.