Westbound Train
Searching for a Melody (Version City/Stubborn Records)
By: Alex Steininger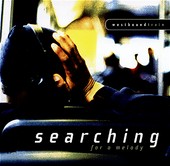 Many ska labels have come and gone in the past decade. Especially those that cropped up in the mid 90's, only to go away before the turn of the new millennium, when ska was perceived dead by the pop culture and labels scrambled to rid themselves of the bands they stocked up on only a few years back.

New York's Stubborn Records, on the other hand, have seen it all, riding high during the good times, and tightening their belts during the bad times. But, regardless of the market analyses, they proved to be in it for the music, using their studio (Version City Studios) to record some of the best up and coming ska acts, releasing a lot of it on Stubborn.

Ran by the ska/rocksteady king, King Django, who fronted the Stubborn All-Stars and Skinnerbox, two of the third wave's biggest selling, and most innovative ska acts, Stubborn has always been a seal of quality. Their latest release, Searching for a Melody by Westbound Train is no different.

An 11-track, fifty minute ride through some of the most true-to-form ska and rocksteady music you're likely to hear, Django's engineering and production stamp can be heard throughout, guiding the band through rhythmic, danceable, and comforting grooves.

Whether it is the soul of the horns, the melding of the vocals, or the warmth that only island music can bring, Westbound Train carry the ska torch, ignoring all the commercials signs and playing the music that is in their bloods.

Strap on some shoes, grab your lady, and start dancing, because Westbound Train isn't going to stop until you're in love with the mood they create. I'll give this an A.