Dim Stars, Bright Sky (Imusic/BMG), his most acoustic-focused record to date.

Mild-mannered and friendly, Doe is personable and inviting, as humble as they come, despite his numerous contributions to music history. As the front man for X he helped redefine punk, and as a member of the Knitters, he showed us that country is cool.

X remains a group to this day; although they haven't put out a record in nearly a decade, they continue to tour every year, playing to sizable crowds at every stop.
"No, I don't think people want to hear it," Doe says of the possibility of another X record. "The last two we did got a lukewarm reception. It was a very friendly time for radio, and audiences, and the peak of grunge in 1993, and they still got lukewarm receptions. They may have been a bit over-produced, but they weren't bad." "And I don't like punk rock music that much anymore," adds Doe. "(Vocalist) Exene (Cervenka) likes things that are weirder and harder, whereas I tend to like middle-of-the-road stuff. That's me now."
Dim Stars, Bright Sky, however, is far from middle-of-the-road. It may not contain the electric energy and rock sense of Doe's other work, especially X, but it is as potent, and easier to connect with, than anything he has done prior. And that is saying a lot.
With special guest stars Juliana Hatfield, Aimee Mann, Jakob Dylan, and Rhett Miller, Doe's influence and guidance to a new generation of musicians is repaid as they join the man that helped shape them into the musicians, and music lovers, they are today.
With such a heavy-hitting supporting cast, Doe is able to pen and carry out some of the year's most beautiful songs. Aimee Mann's duet on "This Far" transforms the song from a lightweight rocker into a full sounding bed of electric guitar-driven pop-rock. Retaining the softness the album strives for, the song also possesses enough rock leanings to reassure you Doe hasn't given up on rock, just put it on the backburner for a while.
Two of the album's more lush moments come courtesy of "Closet of Dreams" and "Still You," with Julianne Hatfield contributing backing vocals on both, while Jakob Dylan's backing vocals on "Magic," leaning towards the album's rock side, helps beef up the song. On "Backroom," an upbeat, strong melodic offering, Rhett Miller's sweet voice softens Doe's rougher edge, while the piano melts away the few layers of rock and contains the song, ensuring the pop and the rock compliment each other.
"(Producer) Joe Henry knows everyone," Doe says of the guests who appear on Dim Stars, Bright Sky. "When we were almost finished, Joe said, 'You know, there are a lot of different people we can have sing on the record,' and so we just matched their singing styles to the songs."
Dim Stars, Bright Sky was an important record for Doe to make. Fans kept asking for a solo acoustic record, one that represented the touring Doe was doing with just his guitar, yet each time a record was released, fans would always ask if was an acoustic record, and Doe would always stare at the ground and shake his head no.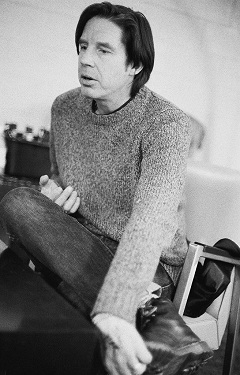 "People have this preconceived notion that I'm alt-country or whatever," Doe remarks. "I gave people what they wanted, or tried too, so if someone bought the record and wasn't aware of all my other records, they would find it satisfying.
"If you can't beat them, you have to join them. A lot of what that means is just in making the instrumentation and arrangement choices, the mixing choices. You just sort of shift them in favor of what fans want or expect."
Yet, Dim Stars, Blue Sky isn't merely for the fans or to put to rest people's notions of Doe's solo work. The record was just as much for him as it was for anyone else, if not more so for himself.
"I always wanted to make a record like this, but always felt the pressure to be rock, to be X," Doe confesses. "This time I really didn't care and the songs seem to lend themselves to that. The last couple of tours I have done, I've gone out with a trio, and we tried to do the songs '7 Holes' and 'Closet of Dreams,' the first two songs on the record, and they didn't work. So I thought I'd try them a different way.
"The end result is something that is more experimentation and adventure - the adventure of being acoustic. It makes it easier to tour on and realize the record live."
Recently reacquainting himself with country and bluegrass, Doe felt it was time to re-approach his love for the roots in his own music, stripping down his songs to their core and building them up from there, with an acoustic guitar as a basis. As the recording process took flight, the songs fully matured.
"I didn't think I'd have as much cool people play on it as I did," Doe says when asked if the record exceeded is expectations. "I thought it would be much more contained. I thought I'd have a small band and that would be it. It has more range and less range than my other records and stays within a certain boundary. It's very disciplined."
Despite the recent wave of press and warm reception Doe's acoustic offering has been receiving, Doe makes it clear to me that the John Doe Thing, his solo band, is not finished.
"The John Doe Thing isn't dead, I'm just going to work acoustically for awhile. Without drums, working with just string bass, upright bass, and piano, it gives the songs a lot of space. It's nice."
The conversation turns to record labels and the fact that Doe has never put out a solo record on the same label twice, hoping from label to label like a foster child looking for a family with which he can fit.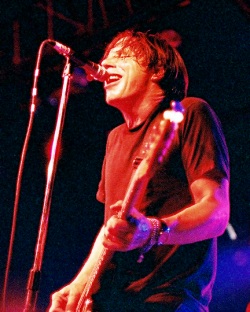 "They're all the same," he says of his previous labels. "They always get too busy and they never have enough time to develop an artist. They put out the record and work it for a limited amount of time, with a very limited amount of money, and then just give up. I think it is very tragic. I'm already experiencing that from Imusic, which is part of Artist Direct. It's because there are so many records being released all the time and it is so hard to get any focus out of people, their lives, and their relationships, and their attention to making things work.
"I would love to have a long-lasting relationship with a label, but that has yet to happen."
"All the later records are licensed, so I will eventually get those back," Doe says matter-of-factly. Prompting the question, why not go the route of Aimee Mann and Bob Mould and self-release records through an artist co-op with established distribution?
"I don't have the fan base they do," Doe quickly replies. "Maybe that is because I keep changing sounds each record?"
"I'm very fortunate," Doe happily admits without question. "If there was no X I would have no career. The fact that X never had a huge hit is to our advantage. That way we can keep going and existing below the radar."
The same could be true without Doe. If everything happens for a reason, maybe Doe's relative obscurity as a solo artist will help him maintain, ensuring he records and releases records for decades to come, with a small, but loyal fan base always waiting.


Some more Jon Doe photos: