INTERVIEW: John Doe
Seminal Frontman John Doe Explains What Freedom Is... (spinART Records)
By: Alex Steininger
Photos: Tom Pitts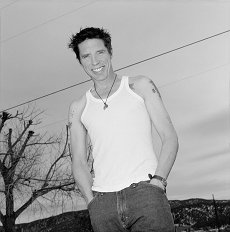 "Freedom Is... the roller coaster of fame," comments Doe. "You really experience a sense of freedom when you go from having a lot to having nothing."

Though to say Doe has nothing is quite untrue. A father, a husband, a critically lauded musician, a producer, and an actor, Doe wears several hats at once.

"I don't make a distinction. They're both the same blood and bones," points out Doe before stating the cold, hard facts of whether or not he's the actor or the musician at the present time. "It all depends on who's paying."

Doe is most widely known as the frontman for the groundbreaking Los Angeles punk band, X. But, those unfamiliar with his music may also know him as the father of the lead girl on the WB's teen drama, Roswell.

"I'm glad because I didn't have to play an officer of the law," says Doe, who auditioned for the part of Roswell's Sheriff, but ended up with the part of the dad.

"Though, I look nothing like my daughter. Maybe she'll become an alien?" jokes the comical Doe.

And will Doe be touring come fall or concentrating on the show?

"We're done shooting for this year and I'll know this month if we're picked up for the next season."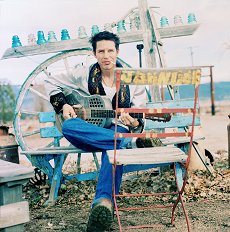 As any seminal frontman will attest to, once you go solo, some of the fan base you built with your infamous band (in this case X) will keep comparing your solo stuff to your band work. Often times disregarding the solo work due to the fact that it doesn't live up to his/her expectations of what the band was doing. And in Doe's case, breaking ground and charting new waters with both X and The Knitters (Doe's country outfit), comparisons are bound to run ramped and the criticism to be quite hard.
"After they get off the floor and I dust them off, I would say 'thanks for your opinion'," jokes Doe when asked how he would respond if someone would approach him with the idea that his solo work is less inspired or inspiring than his work with X.
After joking, Doe gets serious. "No, I could care less. It's a different kind of inspiration," he says without a second thought.
He continues by explaining the different kinds of inspirations behind X and his solo work. "I have a wider range of influences now. Life is less focused; less narrow. I write more love songs and songs about relationships. The similarity between my solo stuff and X though is the suffering and confusion."
After a few seconds, the discussion regarding X and his solo work continues.
"I think my solo stuff has a broader range than what X did, but not as much innovation," offers a very honest Doe. "X fused punk and rock-a-billy. And with Freedom Is... I am finally able to come back to the point where I can be innovative."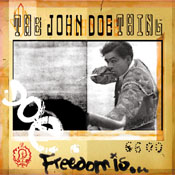 Freedom Is..., originally released via the online music company Emusic.com ("They heard the complete record and wanted to put it out," Doe says with simplicity), is now slated for release in July on New York-based indie spinART Records.
"I'm not real good at playing just quiet songs. Elliott Smith is good at that," remarks Doe on the subject of the eclectic, soft to loud feel of Freedom Is....
"It was an unconscious decision," he further offers. "I would write a fast song, and then another fast one, and then eventually would write a slow one."
Bringing in top-notch producer and friend Dave Way (Christina Aguilera, Macy Gray) to once again work on his solo material, Doe felt at home and comfortable.
"There was a lot less pressure and when you're not nervous, you do your best work. I worked with Dave Way at his house. We recorded two or three songs and brought in different people to play the other instruments. Then we played the rest of the tracks ourselves."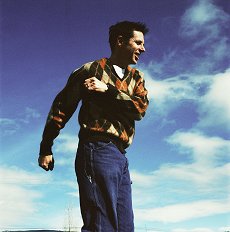 When asked about Dave Way's home studio, Doe gives us an idea of what it is like. "Dave Way's studio is fairly full blown. He does so much mixing; he has lots of compressors to use, so you can add an old school warmth and depth to the songs. It's in a converted garage and two to three people can play at once, but it's a good sized studio with a lot of equipment."
Doe also gives us a little idea of what it was like during the sessions for the album: "We did pre-production, but left it open for spontaneity. We'd do things like play the piano through a filter or an amp and just screw things up to make them sound cool."
With plans to tour in the summer, possible acting roles in the fall, and a family, Doe remains quite the busy man. But, he still finds time to write crafty, powerful songs. Whether they're balls-y rockers like "Ever After" or quiet, singer-songwriter pieces like "Totally Yours," Doe manages to shake things up and give fans a taste of his vast music palette. Freedom Is... should satisfy current fans of both X and Doe's solo work, as well as bring in a whole new audience.