Various Artists
Dreaming Up The Perfect Pop (Planting Seed Records)
By: Alex Steininger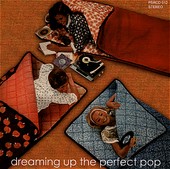 The perfect pop song is subjective. It is a matter of personal taste. One thing anyone should be able to agree on, though, is that the perfect pop song should be infectious, melodically rich, make you feel good, and have some substance lyrically.

And though nobody on Dreaming Up The Perfect Pop, a twenty-one song collection of various pop artists, makes me feel as if I've heard the perfect pop song. The fact remains they all make valiant efforts, creating sugary sweet, mellow- and power-pop offerings that will make you feel as if you've heard some pretty darn fine pop.

From the jangle-y to the bouncy, through the sing-along anthems and the headphone delights, artists such as Astropop 3, Ashley Park, Kleenex Girl Wonder, The Essex Green, and The Mendoza Line all pay tribute to the legends of pop while making their own entry into the history books. Fonda, The Mockers, Call and Response, and The Echo Orbiter also make significant pop offerings here. I'll give it a B-.