INTERVIEW: The New Folk Implosion
Lou Barlow Talks New Folk Implosion
By: Alex Steininger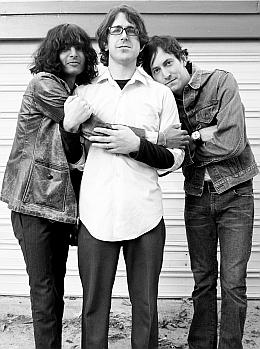 Following the lackluster sales and mediocre critical reception of 1999's self-titled full-length (Sub Pop/Sire), Sebadoh decided to go on hiatus, with front man Lou Barlow going back to his bedroom to record lo-fi material on his 8-track and to begin work on the new Folk Implosion record. Drummer Russell Pollard went with Barlow, handling the drums for Folk Implosion. And bassist Jason Lowenstein began work on his debut solo album, At Sixes And Sevens (Sub Pop), which was released in the fall of 2002.

"Sub Pop didn't like the last Sebadoh record. It was very unpleasant to work with a label that loved your stuff in the past and didn't like the last one. Sales were low and the reaction wasn't that great. That led to us taking a hiatus," confesses Barlow.

Three years later, Barlow has re-surfaced, releasing a collection of home recordings under the moniker Sentridoh, putting out the album Loobiecore on his own indie start-up of the same name.

"The idea came back to me after looking through some old notebooks I had written around 94-95, a journal I did on tour. I had written down that I should start a label and release my own music, almost out of necessity. I wanted to put Sentridoh out low-key so I didn't have to hear anyone at a label tell me they liked it when they didn't. I just wanted to put it out kind of to do it."

Following Sebadoh, Barlow also re-vamped The Folk Implosion, the Sebadoh side-project he started in 1993 with fellow lo-fi songwriter John Davis. The Folk Implosion had released two albums on the Communion label - 1994's Take a Look Inside and 1997's Dare to Be Surprised. They also scored a hit in 1995 with the song "Natural One" off the Kids soundtrack, eventually landing them a deal with Interscope, which released their 1999 album One Part Lullaby.

One Part Lullaby found Barlow singing lead and writing the majority of lyrics on the album, though the album points to Davis as its co-writer. Soon after the album's release, Davis left The Folk Implosion and Barlow went back to Sebadoh.

Diminishing interest from Sub Pop would lead Sebadoh to their break and help re-spark the idea of The Folk Implosion in Barlow. Adding guitarist Imaad Wasid to the line-up, the band boosted a more guitar-rock sound, and The New Folk Implosion was born.

Their self-titled debut as The New Folk Implosion is set for release in March on Imusic/Artist Direct/BMG.

"We got kicked off Interscope and once the dust settled, which took forever, we went into The Ship in Los Angeles to record the record," says Barlow. "I work together on some songs with the band, some I bring in on an acoustic guitar and we add to them... it all depends on the song. But we are a band and they add to everything."

I try to get Barlow to compare The New Folk Implosion to the original lineup, and he can't.

"When I was working with John I was a bit younger, I was 27 or 28, and it was very different at the time," he tells me.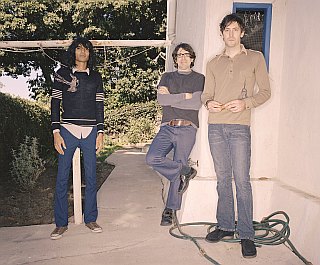 However, he does have a lot to say on the new lineup and how it reminds him of the old one, even if things are completely different for him.
"Imaad's style reminds me a lot John's. I knew Imaad for a long time. We went on tour with the Melvins for two weeks; it was Imaad, Russ, and I. It clicked. He learned a lot of old Folk Implosion songs and we did it. When we came home Russ and I talked and we decided to keep him and make that the New Folk Implosion."
Another new thing for The New Folk Implosion is how they approached the songs. Each song existed live first, whereas on past recordings Davis and Barlow had sat around theorizing, discussing music and the songs, and recording as they wrote them.
"I wanted the structure of the songs to be like the way we went about writing them - ideas in the practice space thrown out as we work on the song, playing them live and working it all out on stage, and then recording them," stresses Barlow. "I wanted the record to be more ragged. I didn't want to spend four days doing vocal takes. I wanted it to be rougher and less perfected. I didn't want to slave over whether or not the drums were perfect. I wanted it to have a human feel to it."
For Barlow, giving the album a human feel wasn't the easiest thing to do. A perfectionist at heart, despite his penchant for demo-y, loose lo-fi recordings, when it comes to writing and recording music in a professional studio, Barlow makes no bones about his need to make the recordings produced and flawless, a complete 180 from his Sentridoh half.
"I had to let go," admits Barlow. "I've learned that having a doubt about a part or a take isn't coming from an artistic mindset. You just can't believe that. You have to listen to others, like Russ and Imaad. The vocals would drive me crazy and I just had to stop because I was driving myself crazy. I had to realize that it was natural - it wasn't perfected. My vocals are about the emotion. I had to learn that if I had almost cried on that line or put a lot of emotion into it that it may not be perfect but it really makes the song. I had to learn it doesn't have to be perfect.
"It's a reaction to the Sebadoh record and wanting to get control back. I wanted to be able to do what I want and not make it perfect. Just go with it. I wanted to get control back and not make a record that sounds so produced."