INTERVIEW: The Oohlas
Former Everclear drummer fronts his own rock band, The Oohlas
By: Alex Steininger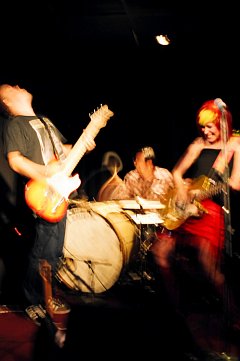 Greg Eklund is best known as the drummer for multi-platinum modern rockers Everclear. However, since leaving the band in the summer of 2004, he has since switched gears, fronting the Los Angeles-based trio, The Oohlas, moving to the front where he sings and plays guitar. Helping him round out the band is younger brother Mark Eklund on bass and guitarist/vocalist Ollie, a woman that often gives the band a Pixies-esque Kim Deal touch vocally.

The Oohlas came together "rather hodge podge," recalls the elder Eklund, who purchased recording gear in 2001, converting his garage into a tiny recording studio. While on break from recording and touring with Everclear, Eklund would spend time in his studio, writing songs -- playing all the instruments -- and trying to figure out how to engineer a record.

It was around this time that Mark Eklund moved to Los Angeles, to pursue a career in film and television sound mixing. Moving a mere five blocks from his older brother's house, the younger Eklund would visit his brother to help him wire and set up his studio, as well as get his 001 Pro Tools system up and running.

"So many times I called in a panic yelling that my microphone preamp wasn't working only to have him troubleshoot over the phone only to find that the power switch was turned off," jokes Greg regarding his brother helping him set up the studio.

The two brothers had talked about doing a band together for some time, but it had never worked out. Greg Eklund kept recording away in his studio when he had the time, but The Oohlas were already taking shape.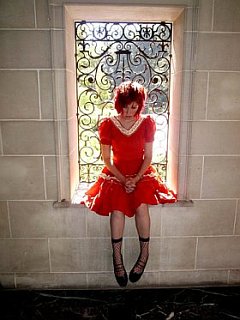 A few years later, Mark Eklund had met a young lady named Ollie, and the two quickly became friends. Determined to start a band, they auditioned guitar player after guitar player, hitting nightmare after nightmare as butt rock burnouts turned up left and right.
Being the older brother he is, Greg Eklund had told his younger sibling that he would gladly play drums if they needed him. But, after countless bad guitar additions, Greg gathered up his nerve and told the band that he had found a guitar player for them: himself.
"[I] I them I found their guitar player and now they only needed to find a drummer," recalls Greg. "They were both down with me playing guitar and that was about it."
Enter The Oohlas.
"So with just the three of us, we started to pool our songs and song ideas together and made up our minds to record a 'demo' in my studio for fun and see how it would turn out," states Greg on the official formation of the band. "As we got into it, we all kind of thought that what we were doing was kinda cool and that it wasn't typical Los Angeles music and that it came from a lot of different influences and backgrounds."
The band soon recorded a 6-song demo and sold it off their website, http://www.theoohlas.com. Limited to 100 copies, it quickly sold out. But, for those that didn't get a copy, don't be discouraged. Three songs will soon be available on the Stolen Transmission Records 3-song single, to be released later this month.
"After recording six songs, we decided to put it out on the web as a EP, rather than mass producing them at a substantial cost. And not wanting to have 750 extra copies molding in a basement one day, we decided to hand make 100 copies and see if anyone thought the songs might be as cool as we thought they were," Greg says of the decision. "We have sold out and will not be making anymore copies of this first run of a hundred because we have signed a singles deal with Stolen Transmission Records out of NYC to release three of these songs in a limited run of 250 copies. Stolen Transmission is a singles label started and run by Sarah Lewittin aka 'Ultra Girl.' She heard the music and loved it so when she contacted us it seemed like it would be fun and we were down."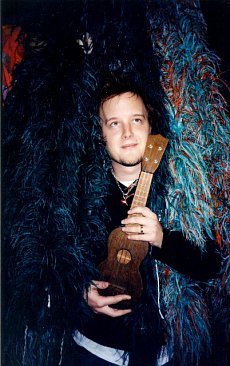 Two of the songs from the original 6-song EP, "Gone" and "Slow Mo Disco" were written and recorded by Greg Eklund in their entirety in 2001. Though Ollie then added some background vocals on both while Mark added a bass part to "Slow Mo Disco" in the mixing process.
"Ballerina Shows", another highlight of the 6-song EP, was written by Mark and Ollie, recorded at their apartment, prior to the formation of The Oohlas. The rest of the songs started out as music for some short films that Greg had been writing and recording music for, but after the director decided not to use them, Mark re-arranged the songs while Ollie wrote words to the previously instrumental numbers.
"Then [they would] bring it back to me for some final touches," Greg says of the songwriting process. "So its a mixed bag of approaches."
The band's first live show was October 13, 2004 at the seminal Silverlake Lounge club in Silverlake, California. Since then the band has been playing a handful of gigs, with drummer Jose Medeles (who spent time with The Breeders) handling drum duties.
"We are very excited and I'll admit I'm scared shitless just being outside my usual comfort zone of the drums," Greg confesses. "To be out front seems natural but a bit naked being used to being surrounded by cymbals and drums. It's just been great to feel some real excitement about music again. I have been missing that the last few years. That's why it was important for me to try something new like playing guitar and singing. Playing with Everclear got to be like a job and it was time for a change. I don't like flogging a dead horse. Been there done that. Move on to something new."
And moving on to something new Eklund did.
When asked what his favorite part of the 6-song EP is, Eklund proudly discusses the final song on the EP, "The Rapid".
"There is so much going on in that song over a repeating chord melody. There are no chord changes so the challenge to me was to try to build rhythmic instrumentation to keep the song interesting and propelling forward. Also in that song I used an audio recording that I recorded on video camera of a subway car full of 300 soccer hooligans going to the 2001 semi final of the FA Cup in Wembley England at the stadium 1/2 mile from the house I grew up in. My wife and I were the only ones other the hooligan and an 80 year old lady as the hooligan rocked the subway car and squared off in the train shit faced at 10am and screaming their football songs. I thought we were going to die. When we got to station we were met by riot police and my wife and I had to sneak behind the police lines to get out the beer bottle tossing crowd."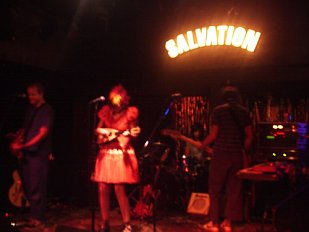 When the conversation turns to the future -- touring, indie labels, etc. -- Eklund ponders for a bit before deciding that the band would rather just see where things go rather than putting expectations or assumptions on anything.
"At this point, we don't know," he says of the band's ultimate goal in terms of labels. "It's a weird time for music labels both major and indies. I think it's a time of transition; out with the old and in with the new. We are open to all offers and there are good and bad major label and indie deals. You can be successful with both but right now we are not really that concerned with either, we are just focusing on rehearsing so that we can play some more shows in and around Los Angeles."
The band has currently written some more material that they are quite excited about and hope to record soon, while focusing on getting their live set together. No current tour plans for the band, though they do hope to travel through Northwest and the US in the future.