Earlimart
The Avenues E.P. (Palm Pictures)
By: Alex Steininger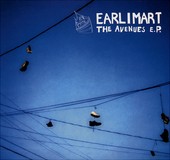 On The Avenues E.P., Earlimart continues with the rock 'n' roll, delivering songs like "Susan's Husband's Gunshop", a blazing, guitar-soaked, spacey song that forges ahead regardless. Buy they also deliver stark contrasts to rock and roll, as demonstrated throughout the other four songs on the EP.

"Color Bars," the album's opening track, is soft and moody, the dark layers fleshed out by strings, which gives the song a more serene feeling, while the pop undertones help make everything feel vibrant and full.

"Interloper"'s drowsy pianos and relaxed rhythm section offers up a song suitable for slumber, its dazed melodies and cloudy textures the perfect contrast, making the song at once eerie, while still remaining positive and optimistic.

Bleeding perfectly into the untitled track, "Interpoler" is the album's highlight, though album closer "Parking Lots" is nothing to scoff at. A short, minute and a half number, it comes as quickly as it goes, helping the EP to clock in at a mere twelve minutes.

After listening to The Avenues E.P., two things are clear: Earlimart is a damn fine band and giving them a little and teasing them with the concept of more does make them want you more. Here's to Earlimart's next full-length. I'll give this a B+.